This one-pot pasta recipe is loaded with fresh veggies, garlic, and just enough sweet Italian sausage to give it tons of flavor. A new weeknight classic!
Be sure to check out my Healthy Eating One-Pot Cookbook for more easy, healthy recipes like this one.

When I started this blog 10 years ago it was mostly for myself. (Don't go searching for my first post; it was returned to draft status a long time ago.)
I was always tweaking recipes and playing around in the kitchen, but since I never took notes or documented what I had done, I could never recreate my meals.
Putting the recipes on the internet meant I could keep track of them, plus I could access them from anywhere. (They also made them a lot easier to share with my friends on the various Weight Watchers message boards I was active on back then.)
Since then, I've grown accustomed to cooking with a notebook on the counter next to me. It's there 98% of the time. I graduated from culinary school and even wrote two cookbooks!
Of course, this recipe was one I made during the 2% of the time that I wasn't taking notes or paying attention.
I regretted it from the first bite, but luckily it wasn't too difficult to recreate. I even improved on it by coming up with a one pot version that's great for weeknights.
If you like the one pot pasta recipe be sure to also check out my one pot cajun chicken pasta with artichokes and my one pot lasagna!
This pasta is simple, with just seven ingredients that all work perfectly together.
Remember that eggplant and zucchini hummus pizzas I shared the other day? This recipe is what started my eggplant + zucchini obsession.
I really just wanted eggplant, but they were tiny and expensive. Zucchini was an easy way to add bulk to my plate, and it turns out that the combination is delicious! You can also add yellow squash if you want.
I love one pot pasta recipes like this one since they eliminate the need for a second pot or a colander. They're also much easier if you have a sink full of dishes from the night before, since you don't need a place for the pasta to drain.
Plus you don't have to wait for a giant pot of water to boil!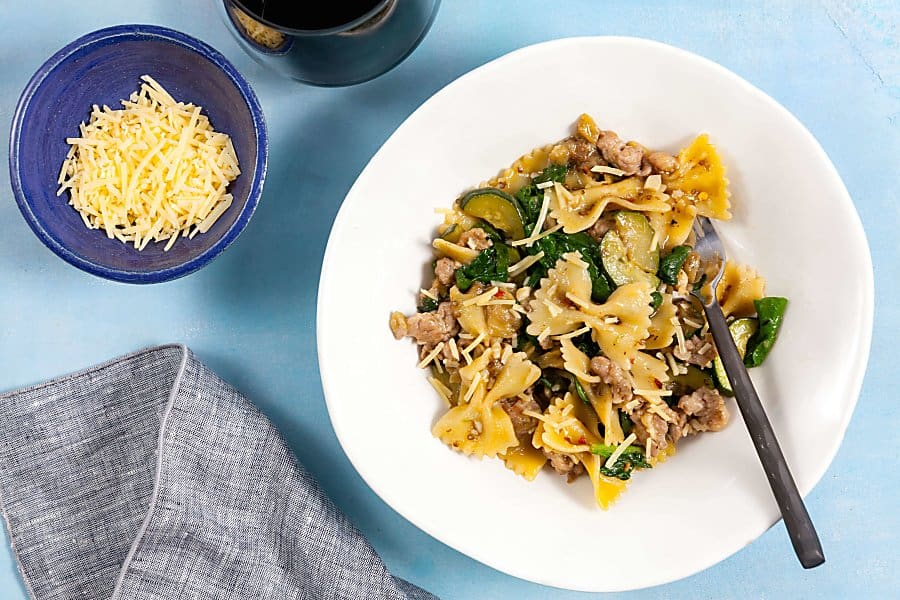 How to make one pot pasta with eggplant and zucchini
Start by browning two sausage links in a wide, shallow pot – I use a 3 3/4 quart braiser, which has lots of surface area but high enough sides to contain the pasta.
Once the sausage is cooked through, transfer it to a plate. If the pot is dry, you can add a little oil then add lots of garlic and a big pinch of red pepper flakes.
Next, add the eggplant and zucchini and cook it for a few minutes, until it starts to take on some color.
Then add the pasta and water and bring everything to a boil. The eggplant will cook down into a thick puree that gives the sauce a ton of body, meaning you can add less oil at the end than my original recipe used.
After 10 or 11 minutes, the pasta will be cooked to the perfect al dente. (You can cover the pot to speed things up a little, but keep a close eye on it since the pasta can go from dried to mush very quickly that way.)
Add the sausage back to the pot, along with some spinach and parmesan, and give everything a good mix. Season to taste with salt and pepper, and enjoy!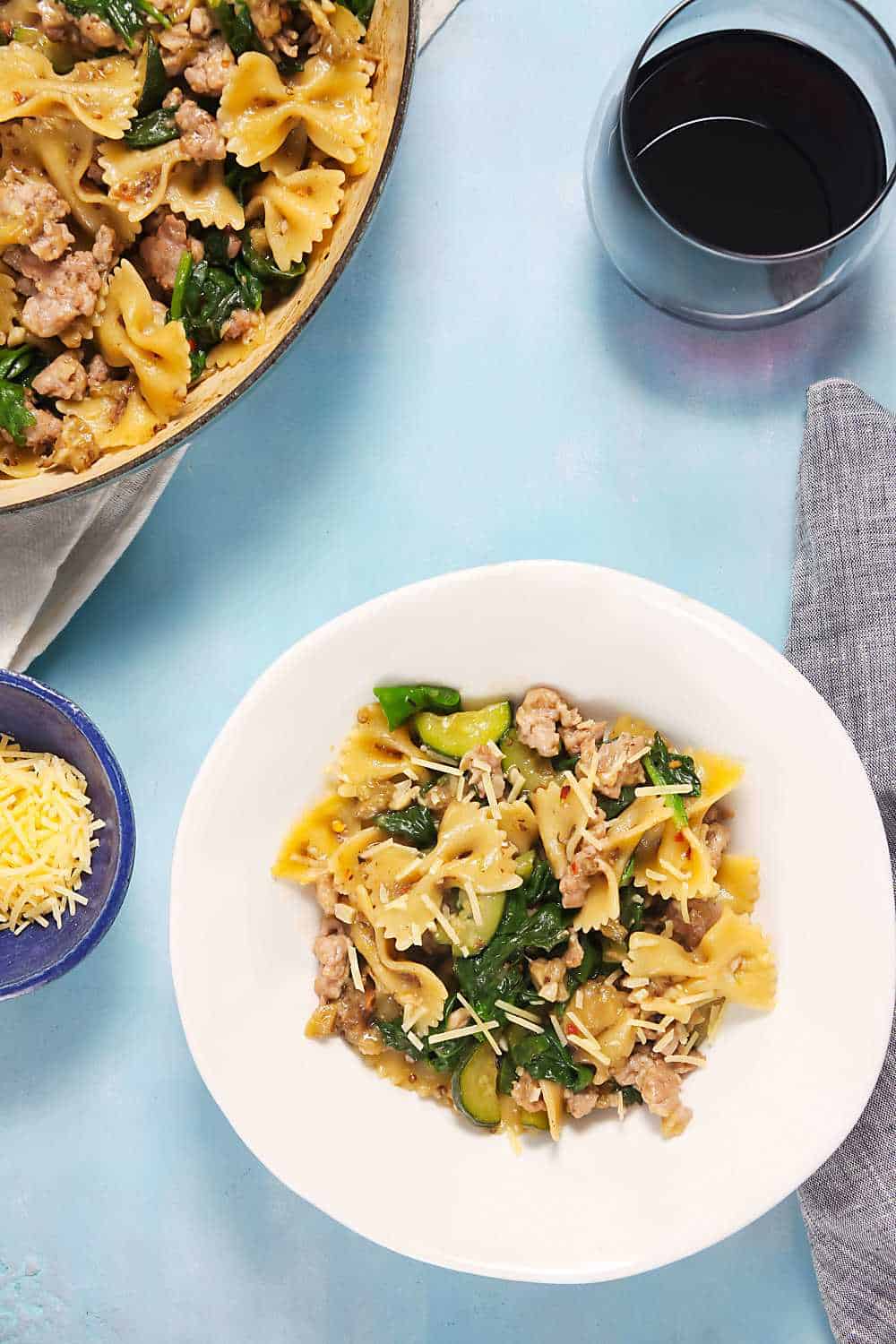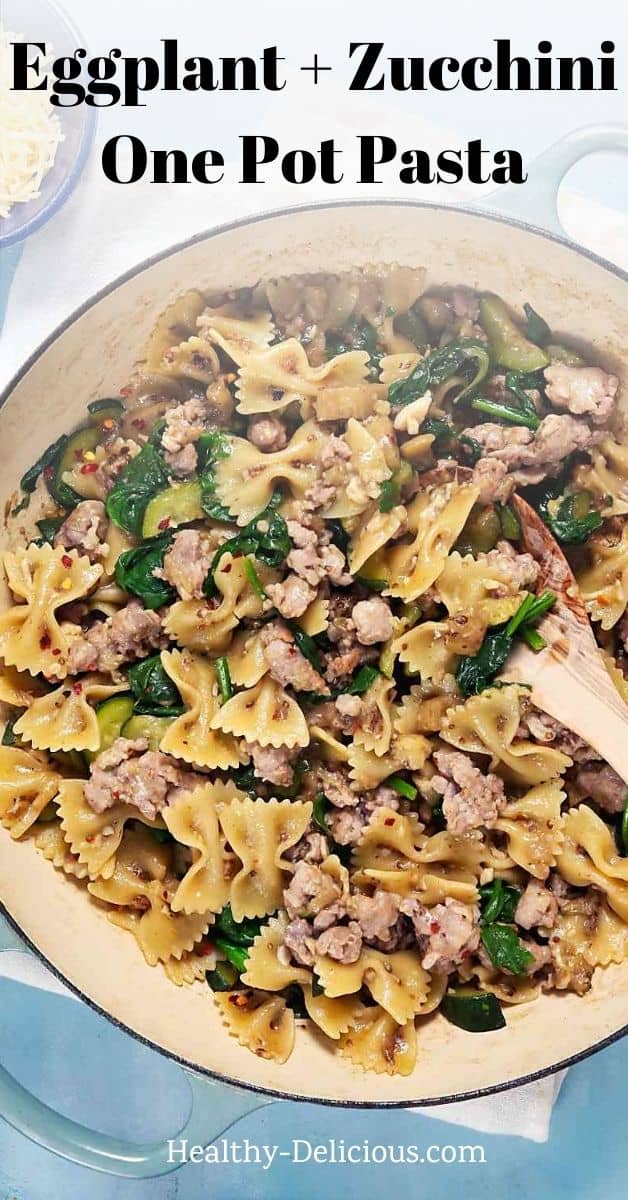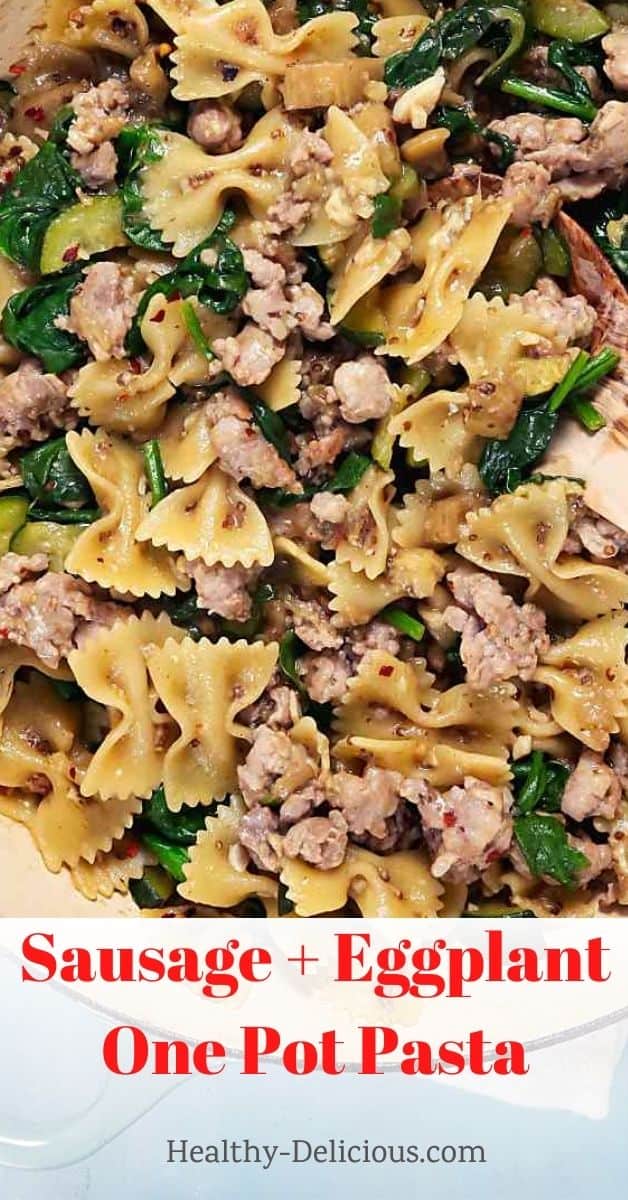 Sausage and Eggplant One Pot Pasta
Ingredients
1 Tablespoon olive oil
2 links sweet Italian chicken sausage, casings removed
4 garlic cloves, minced
1 generous pinch crushed red pepper flakes
1 small zucchini, chopped
1 small eggplant, peeled and chopped
8 ounces bowtie pasta
2 1/2 cups water
4 cups baby spinach
1/4 cup grated parmesan cheese
2-3 Tablespoons olive oil (optional)
Instructions
Heat 1 Tablespoon of oil in a large, shallow pan over medium high heat. When the oil is hot but not smoking, add the sausage. Cook, breaking the sausage up with a spoon, until the sausage is browned and cooked though – 5-8 minutes. Using a slotted spoon, transfer the sausage to a plate.
Add the garlic and red pepper flakes to the pan and cook 1-2 minutes, or until fragrant. Stir in the zucchini and eggplant. Cook 2-3 minutes, or until browned. Add the pasta and water. Bring to a boil, then reduce heat to medium and simmer 11-12 minutes, or until pasta is cooked al dente and most of the water is evaporated.
Add the sausage, spinach, and parmesan. Stir until the spinach is wilted. Season to taste with salt and pepper. If desired, drizzle with 2-3 Tablespoons of olive oil.
Nutrition Information

Amount Per Serving

Calories

360

Total Fat

10g

Saturated Fat

3g

Cholesterol

26mg

Sodium

305mg

Fiber

6g

Sugar

6g

Protein

16g

By