As gorgeous as that last salad was, I figured it was about time to get a new post up. The problem is that between the Easter holiday, a quick trip to Boston, and the incredible weather that we've been having these past few days the last things I've wanted to do were cook or sit in front of the computer. But I couldn't wait any longer to share this salmon and lentil dish, so I'm forcing myself to sit down and write.
I found some lentils when I was cleaning out my cabinets and thought that I should use them up. Lentils are a strange thing – I always forget how much I like them and that they are just as much a warm-weather food as a great base for a rich, hearty winter soup. But with a few lighter ingredients like salmon and leeks to perk them up, lentils can be a great addition to a springtime meal. For this dish, I cooked them together with leeks and turnips. The leeks gave them a bright flavor, and the turnip added a peppery touch that I enjoyed a lot.
The caramelized lemon glaze was the lucky byproduct of a mistake. I wanted to add some acid to the dish to prevent is from tasting heavy or muddy, so I set out to make a lemon gastrique but I got distracted and let it cook down too much. I was really disappointed to see the thick, gloppy caramel that resulted but I gave it a taste and it was actually really good! It was sweet, but the lemon and vinegar kept it from being too sweet. I took a change and spooned a little over my salmon, not sure what to expect — it was great! The sweetness actually worked really well with the salmon (if the thought of a sweet sauce on salmon seems weird to you, it's not that different from salmon teriyaki. Much less scary now, right?)
Salmon with Caramelized Lemon Glaze over Lentils


These lentils are a great way to practice your knife skills — in order to keep a refined texture, make sure that the pieces of leek and turnip are smaller than the individual lentils.




2 salmon filets

1 tsp Old Bay seasoning

1 Tbs + 1 tsp olive oil

1/2 cup dried lentils, rinsed and picked over for stones

1 large leek, chopped

1 turnip, peeled and cut into a fine dice

1 cup chicken stock

salt and pepper

juice of one lemon

1/4 cup sugar

1/4 cup white wine vinegar

Season the salmon liberally with Old Bay. Set aside to rest.

Heat 1 tsp olive oil in a large pan over medium heat. Add the leeks and cook until they begin to brown and soften. Add the turnip, lentils, and stock. Bring to a boil, then reduce the heat and simmer for 20 minutes or until the lentils are soft and the liquid has cooked off. Season with salt and pepper.

While the lentils cook, start the caramelized lemon glaze: Combine the lemon juice, sugar, and vinegar in a small saucepan over low heat. Stir to dissolve sugar. Cook for 15 minutes, stirring occasionally, until the sauce has turned a light caramel color and thickened significantly.

Heat 1 Tbs of olive oil in a large pan over high heat. Cook the salmon for six minutes. Flip and cook on the second side for 3-4 minutes, or until the salmon is just pink in the center.

To serve, spoon lentils onto a dish. Top with salmon. Spread 1 tsp of the glaze over the salmon (you will have extra glaze).

Serves 2.



*****
Check out this great package that I got last week! It was from Micaela from Italy as part of the Foodie Exchange. Micaela totally went above and beyond with this package — just looks at all these goodies! From sweets to sauces and soups to an espresso pot!! It was like Christmas! 😉 It didn't take us long at all to break into the pasta and sauce kit (a packet of dried spices that you soak in water than then cook up with tomatoes). It was really tasty and I loved the shape of the pasta – I've never seen anything like it before! I also noticed that all of the packages foods have number right n the front that identifies how many servings the entire package contains. I loved this idea! So many times something seem small enough to be a single serving, but it's really 2 or 3. Thanks, Micaela!!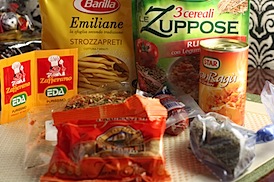 By