All the flavors of traditional raclette are baked into this delicious quiche, complete with a shredded potato crust. And thanks to GO VEGGIE, it's lactose-free!
I don't know about you, but when I know I can't have something it makes me want it a million times more. For the past few winters, I've watched friend after friend post photos of a delicious dish called raclette to their facebook pages and instagram feeds. If you've never seen it, it's basically a huge black of cheese that gets warmed on a grill, then you scrape the melty part onto boiled potatoes, charcuterie meats, and pickled vegetables. It looks like heaven. It also looks like a bad, bad idea for someone who feels the way I do after eating too much dairy.
Since I can't enjoy the traditional dish, I did the next best thing: baked all of those flavors into a delicious, and lactose-free, quiche.
At first, I considered adding cubes of boiled potatoes to the filling of this "raclette" quiche, but then I had the idea to use shredded potatoes as the crust instead. This way, you get tons of potato flavor without doubling-up on carbs. The potato crust takes a few minutes to make, but it's well worth the effort. I seasoned the crust with garlic and a little bit of fresh dill, and it basically tastes like a huge latke! Plus it's wheat-free, which I know some of my friends will appreciate.
Inside, I layered sautéed onions and mushrooms, salami (look for one that's nice and dry), and GO VEGGIE's lactose-free Swiss. I also added some capers to the egg mixture, to give the recipe a little bit of that bright pop that would normally come from pickled vegetables. I layered some extra GO VEGGIE onto the top of the quiche so it could get nice and melty. This recipe is super delicious and can be enjoyed for dinner or as a make-ahead breakfast!
PS – GO VEGGIE is getting a new look! Stores seem to be rolling it out slowly, and mine only had the Swiss slices in the old packaging. Be sure to keep your eyes peeled for the new package (you can get a sneak peek on their web site). As always, the lactose-free singles have half the calories and fat of regular Swiss cheese, with no cholesterol or saturated fat. They're also rolling out some new products that I'm super excited about, like single-serve cream cheese (so convenient) and individual sriracha (!!!) or white cheddar snack bars.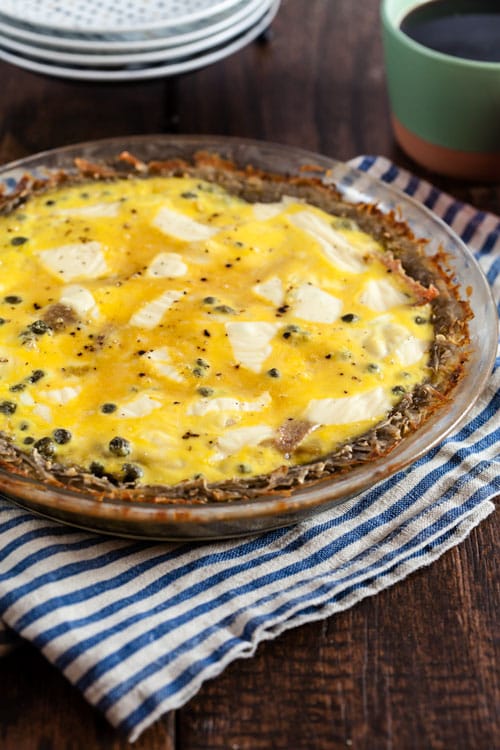 More quiche recipes for you to enjoy: Quiche Provencal // Prosciutto and Artichoke Quiche

Ingredients
3

large Russett potatoes

2

teaspoons

olive oil

divided

1

teaspoon

chopped fresh dill

¼

teaspoon

granulated garlic

salt and pepper

1

onion

diced

4

ounces

crimini mushrooms

sliced

4

ounces

dry salami

4

slices

GO VEGGIE Swiss singles

torn into pieces

3

eggs

beaten

⅓

cup

nondairy milk

2

teaspoons

capers
Instructions
Heat oven to 400ºF. Spray a 9-inch glass pie plate with oil.

Peel and shred the potatoes; wrap them in a paper towel and squeeze out any excess moisture. Add the shredded potatoes to a large bowl and mix in 1 teaspoon olive oil, dill, and garlic; season with salt and pepper. Press into the prepared pie plate, working the potatoes up the sides like a crust. Bake until the potatoes look dry and the edges are golden brown, about 20 minutes. Let cool. Reduce heat to 325ºF.

Heat the remaining olive oil in a large skillet. Add the onion and cook until softened, about 5 minutes. Add the mushrooms and cook another 5 minutes, until soft.

Spread the mushroom and onion mixture into the bottom of the potato crust. Top with the salami and 3/4 of the cheese. In a small bowl, beat together the eggs, milk, and capers. Pour into the crust, shaking the pan gently if needed to let the egg settle. Top with the remaining cheese and sprinkle with black pepper.

Return the quiche to the oven and bake for 20-30 minutes, or until the center is set. Let cool before slicing.
I created this recipe for my client, GO VEGGIE. Thank you for supporting the brands that keep me inspired in the kitchen.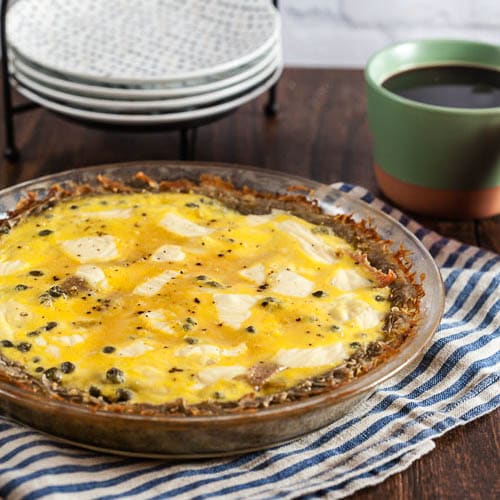 By