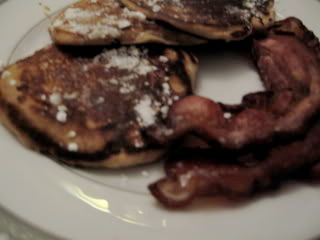 I love breakfast for dinner. I also love breakfast for breakfast, but let face it… that never happens. I'm pretty much worthless before coffee, and by the time I get up, have coffee and cook half the day is gone and I don't want breakfast anymore. So breakfast for dinner it is.
This actually worked out perfectly because I had a really rough day. The kind that makes you turned your planned pancakes and OJ into chocolate chip pancakes and mimosas. Its all good though.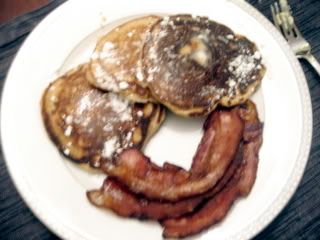 I really like these pancakes. They're nice and fluffy, and the mashed banana means you get a little banana flavor in every bite without it ever being overpowering. The cornmeal and whole wheat flour adds fiber and a lot of flavor. They're very rustic tasting. I actually don't like them with syrup. They overpower it. With powdered sugar, jam, or honey they are fantastic. I had these with powdered sugar (as seen here) for dinner, and had the leftovers with blueberry-lemon preserves for breakfast.
You can also pre-mix the first 7 ingredients and store it as your own homemade pancake mix! Much better than bisquick! I try to keep a tupperware full of it at all times.
3/4 c. all-purpose flour
3/4 c. whole wheat flour
3 T. cornmeal
3 T. sugar
1 tsp. baking powder
1 tsp. baking soda
dash salt
1/4 tsp. cinnamon
1 cup milk with a few splashes of lemon in it (or buttermilk if you have it)
1/4 c. water
1 egg
1 T. oil
1 tsp. vanilla
1 banana, mashed
butter
small handful chocolate chips (optional)
1. Mix first 8 ingredients (through cinnamon) in a large bowl. Mix next 5 ingredients (through vanilla) in a separate bowl. Mix wet ingredients into dry ingredients and stir until smooth. Mix in mashed banana.
2. Melt a small pat of butter in a frying pan or on a griddle set over medium heat. Add pancake batter (2 T batter per pancake) and cook until the top starts to get small bubbles on it and the bottom becomes golden brown. Sprinkle with chocolate chips )if using) and flip. Cook until other side is golden.
Makes 4, 3-pancake servings. Each pancake is just under 100 calories.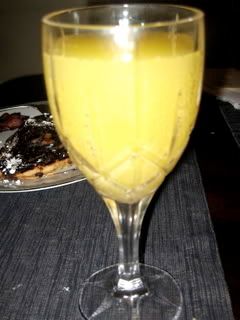 Mimosa! With Orange-Mango juice. Yum.

By