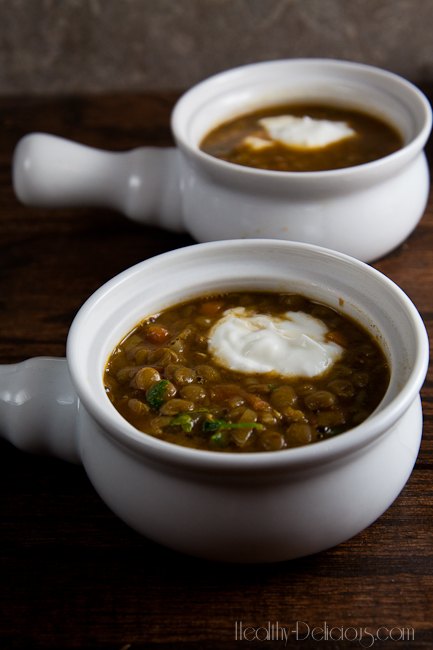 Yeah, so remember how I said all I wanted to do was curl up on the couch with a blanket? Apparently it's not because it's fall… it's because I'm sick! Ugh. I have a terrible cold – the worst one I've had in years. Three of the last four meals I've eaten have been soup. Luckily, I have a big pot of this roasted eggplant and lentil soup in the fridge, so all I have to do is heat it up (which is about all I have the energy for right now).
This soup is just want I need though. It's rich, earthy, and slightly spicy, with a subtle Middle Eastern flavor from roasted eggplant, tomatoes, and ras el hanout. A dollop of coconut yogurt finishes it off and balances out the spiciness.
Also? It's incredibly good. Like "Shawn was rambling on and on about his day and had to stop mid-sentence to tell me how good it was" good. (Does that make me sound lie a grouch? Whatever I'm sick. It's allowed.)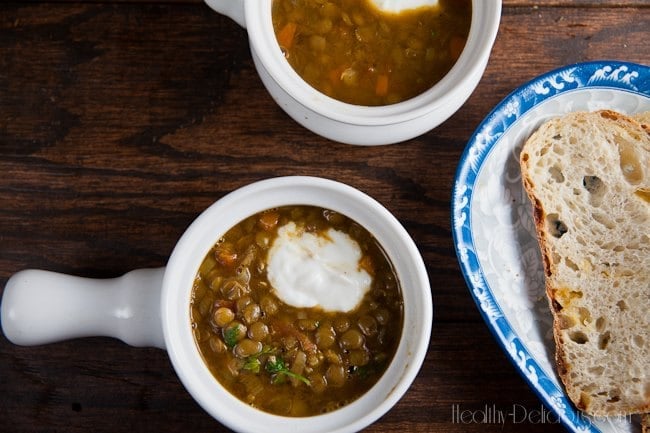 I've been exploring some of the different yogurt options lately after discovering that the brand I thought I liked best really wasn't that great compared to others. I'm still in the process of deciding what my favorite is (and I have a feeling that I might have different favorites for different flavors) but this time I used Yoplait Greek and I liked it a lot (disclosure, they paid me to create this recipe).
Some coconut yogurts taste really artificial (like coconut flavoring) or too much like a pina colada. This one actually reminds me of the flavor of shredded coconut, which I love and it's not overly sweet, so it worked in this savory dish. It also has a great, creamy texture and a peek at the ingredients list showed that there's no gelatin in it which makes me really happy (gelatin in yogurt is a huge pet peeve of mine!) I can't wait to give the tangerine flavor a try – how amazing does that sound?
Ingredients
2

small eggplants

quartered

3

plum tomatoes

quartered

4

garlic cloves

peeled

2

tablespoons

olive oil

divided

3

carrots

peeled and diced

1

leek

sliced

2

celery ribs

finely chopped

3

cups

chicken stock

3

cups

water

1 ½

cups

lentils

2

tablespoons

ras el hanout

1

lemon

juiced

¼

cup

parsley

chopped

1

container Yoplait Greek blended coconut yogurt
Instructions
Heat oven to 450ºF. Arrange the eggplant, tomatoes, and garlic in a single layer on a baking sheet; drizzle with 1 tablespoon olive oil. Roast 20 minutes or until very tender. Scoop the pulp out of the eggplant and discard the peel. Chop the tomatoes and garlic to form a chunky sauce.

Meanwhile, heat the remaining olive oil in a large soup pot. Add the carrot, leek and celery and cook for 5 minutes, or until soft. Add the chicken stock, water, lentils, and ras el hanout. Cover and let simmer 30 minutes, or until lentils are tender. Stir in the eggplant, chopped tomatoes and lemon juice and cook an additional 10 minutes. Stir in parsley. Adjust seasoning to taste.

Serve soup topped with a generous dollop of coconut yogurt (or just stir it right into the whole pot).
Disclosure: This post was sponsored by Yoplait.