Say goodbye to avocado toast and hello to this guacamole toast, spiced up with roasted corn and jalapeños and topped with a runny egg!
I created this recipe for my client, Sabra. Thank you for supporting the brands that keep me inspired in the kitchen.

Today I'm sharing another super simple recipe for when you don't have time to cook (don't miss the strawberry cucumber salad I shared on Tuesday). This guacamole toast,loosely inspired by a plate of heuvos rancheros that I had for brunch recently, is a fast an easy breakfast, dinner, or afternoon snack. It's full of flavor, healthy, and totally delicious.
Avocado toast has been all over the place lately but since I'm lazy busy I usually make myself guacamole toast instead. Using guacamole – which I always have in my fridge – is a great way to avoid the disappointment of a not-quite-ripe, flavorless avocado. Plus you're not left wondering wondering what to do with half of a leftover avocado.
I've been a big fan of Sabra's classic guac for a while, so I was really excited when they came out with this vegetable fusions line. This new guacamole is blended with real, crisp vegetables and comes in three flavors – southwest, mango lime, and garden vegetable. Each one is more delicious than the next!
The dip is rich in antioxidants, vitamins, and fiber, and has 30% less fat than traditional guacamole. It's also vegan, kosher, and gluten-free. You can learn more – and snag a $1 coupon – at www.sabra.com/veggiefusions.
I love the garden vegetable for recipes like this, and the mango lime is awesome for snacking. Try it with blue corn tortillas. Yum!

When it comes to guacamole toast (or avocado toast) I always like to go big on flavor. If you ask me, it's essential to have something crispy, something spicy, and something fresh and green. And an egg. Always, always, always a runny egg.
For this toast, I tackle several of those components with a simple roasted corn and jalapeño salad. The vegetables are crisp, the jalapeño is spicy, and and whole thing is super fresh. Heating the corn and pepper in a hot pan until it starts to blister gives it an extra layer of flavor and takes a little bit of the edge off the jalapeño. If you have leftover grilled corn or a bag of frozen fire-roasted corn, that'll work here too.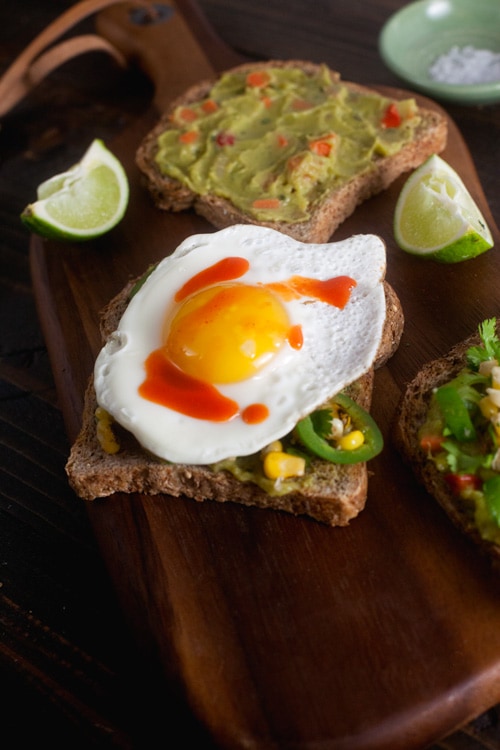 Ingredients
1

teaspoon

olive oil

1

ear corn

cut away from the cob

1

jalapeno

thinly sliced

¼

cup

fresh cilantro

chopped

1

lime

juiced

4

slices

whole grain bread

toasted

1

container Sabra Veggie Fusions Garden Vegetable Guacamole

4

eggs

fried

Salt and pepper

Hot sauce for serving

if desired
Instructions
Heat the olive oil in a medium skillet. Add the corn and jalapeño. Cook, stirring occasionally, until the corn starts to blister and blacken. Remove from heat and stir in the cilantro and lime juice. Season with salt and pepper.

Spread each piece of toast with 2 tablespoons of guacamole. Mound 1/4 of the corn mixture onto each piece of toast and top with a fried egg. Season with salt and pepper. Top with hot sauce, if desired.
Nutrition Facts

Roasted Corn and Jalapeno Guacamole Toast

Amount Per Serving

Calories 31

% Daily Value*

Carbohydrates 7g2%

Protein 1g2%

* Percent Daily Values are based on a 2000 calorie diet.

By