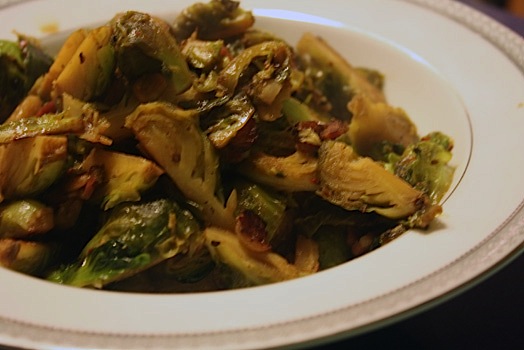 After a long day raking leaves and a late lunch that left me not really wanting dinner, finding the motivation to get up from my nap on the couch wasn't really there. Until I remembered my plan to make these Brussels Sprouts in Ponzu or dinner! Then I was off the couch and in the kitchen in about 5 minutes!
At the FoodBuzz Festival, one of the major hits with everyone at dinner was Namu Chef Dennis Lee's Brussels Sprouts. They were incredible, and no one could stop talking about them. In fact, we all kept talking about them so much that he finally relented and gave out the recipe. Score!! I'm not likely to get tired of Brussels sprouts when there are recipes like this out there. They're browned in butter, and then simmered in a citrusy ponzu sauce until they're very tender. Oh… and there's bacon, too!
Like a lot of other people, I had actually been planning on trying my hand at these and they were on my menu for last week. So I had the ingredients on hand and was ready to go when Chef Lee posted the details. At least most of them – I did make a few substitutions based on what I had in the kitchen. Bacon instead of guanciale. Various seasonings instead of shichimi. No dashi. And a lot more f everything. He recommends making 4 sprouts per person. That is nowhere near enough! He should have gotten the point when we all asked for seconds at dinner. I made a whole pound of Brussels sprouts for the two of us – and we fought over who got the last of them.
I'm sure you'll be seeing these on lots of blogs this week, and it will be fun to see how everyone put their own spin on them. I'm especially excited to see Mardi's version, which she will be posting today.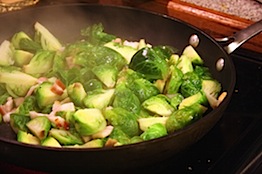 I would have been perfectly happy with just a huge bowl of these for dinner, but I had some flank steak in the fridge that needed to be cooked today. I mixed up some of the topping that I use on my Korean Baked Tofu for the steak. I slathered about half of it on before I cook it in a grill pan. Then I let it rest, sliced it, and served it with the rest of the sauce. It came out very nicely (Shawn preferred it to the tofu) and complimented the Asian flavors in the Brussels sprouts perfectly. As expected though, the sprouts totally stole the show! (And it sounds silly, but I wasn't feeling wine and I found that ginger ale also went extremely well with this dinner!)
Words really can't describe how good these are. I strongly encourage you to try these for yourself!
Roasted Brussels Sprouts with Ponzu
Adapted from Chef Dennis Lee
3 cloves garlic, sliced

1/4 cup oil for frying

1 lb Brussels Sprouts

1 Tbs butter

2 slices bacon, diced

1/2 cup ponzu

1/2 cup water

1 tsp orange zest

1 tsp black sesame seeds

1 tsp crushed red pepper flakes
Add the oil to a small pan and heat until it begins to shimmer and a drop of water flicked onto it bounces around. Add the garlic and cook until it begins to brown and crisp – about 3 minutes. Remove garlic and allow to drain on a paper towel.

Cut the sprouts into quarters, cutting through the root so that they stay together. Blanch the sprouts in a large pot of salted water, and immediately hock in a nice bath.

Melt the butter in a large skillet over high heat. Add the blanched sprouts and the bacon. Cook, stirring frequently, until the sprouts begin to brown and the bacon crisps – about 7 minutes. Add the ponzu and water to the pan. Stir frequently, and allow to cook until nearly all of the liquid has cooked off – another 5 minutes or so. Remove from heat and stir in the fried garlic, orange zest, sesame seeds, and red pepper flakes.

Serves 2-8, depending on who you ask 😉
Approx. 125 calories, 5 grams fat, 6 grams fiber, 6.5 grams protein (based on 4 servings)


****Don't forget to spring all 5 of my recipes in the Springsgiving contest for your chance to win $100!

By