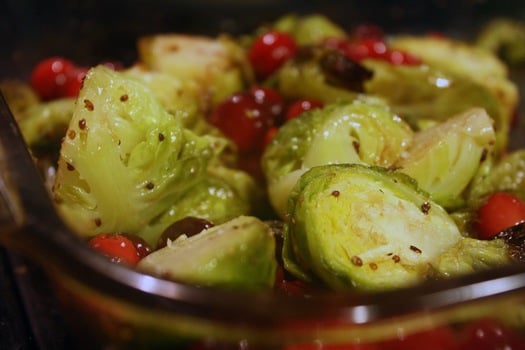 When I was a kid, there was a ventriloquist that would be at pretty much every community event around town. He was awful and I hated him (you could totally see his mouth move – plus his doll looked like a kid that I went to school with and didn't like very much), but his act was geared toward kids so I saw him a million times. Anyway, he would always tell this gross joke: what's the difference between brussels sprouts and boogers? (kids won't eat brussels sprouts). I told you it was gross. I'm pretty sure it was because of that joke that I never liked brussels sprouts. I mean, not only did I have to think about boogers every time I ate them (obviously I still do), but it made me think that kids weren't supposed to like brussels sprouts.
I don't know what changed my mind… I think one day a few years ago I just felt like having them. Maybe I saw a picture of the in a food magazine or something and realized that the darn things actually looked pretty good. Whatever it was, I bought some and you know what? I loved them! And luckily Shawn did too, so its always a nice option when we're looking for a vegetable that's a little different.
When I saw fresh brussels sprouts at the co-op a few weeks ago, I knew I wanted to give them a try – I usually just get frozen sprouts, and the one time I tried to make fresh onesI didn't clean them properly or cook them long enough and they didn't come out very well. These were so big and gorgeous though that I thought I'd give it another shot. In another move that's uncharacteristic for me, I decided to make them part of a very traditional meal – almost a Thanksgiving dinner type of a thing – with pan roasted chicken and mashed sweet potatoes. To add some brightness to the plate, I added cranberries, ginger, and orange to the brussels sprouts. Everything went together beautifully, and this is a side-dish that will become a staple for me. I really enjoyed how the tartness of the cranberries played off the sharpness of the sprouts.
This does take a while to prepare – I let everything roast for about 40 minutes so the brussels got nice and tender – but since most of the time is inactive, it isn't completely out of the question for a weeknight meal. I don't like to spend too much time in the kitchen on weeknights since I have so little time to myself. I'd rather relax than stand over the stove. But since these basically do their own thing in the oven, it isn't bad. I made these after work on Friday and dinner was on the table at a decent hour. I'd make them on a weeknight again, but I'd make sure to start them early so that I'm not eating too late.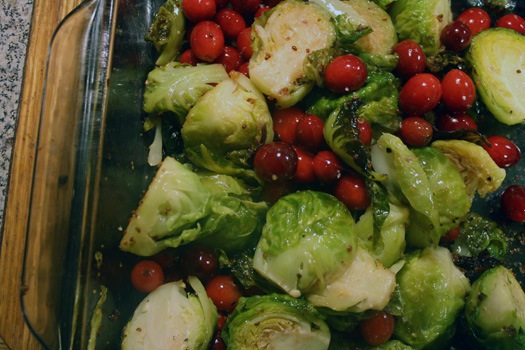 Ingredients
1

pound

Brussels sprouts

1

Tablespoon

grainy mustard

1

cup

cranberries

I used frozen

1

Tablespoon

agave nectar

1

Tablespoon

frozen orange concentrate

1

Tablespoon

grated ginger

1

Tablespoon

butter

salt and pepper
Instructions
Clean brussels sprouts by cutting off the stem end and removing the tough outer leaves. Slice each sprout in half.

Bring some water to a boil in a medium saucepan with a steamer insert. Steam the sprouts for 5 minutes or until they turn bright green and begin to soften. Transfer to a baking dish, and toss with mustard. Roast at 450 for 40 minutes or until tender (check them after 20 minutes or so - if they start to get too dark, cover the dish with foil).

Add cranberries, agave, orange concentrate, and ginger to a small saucepan over medium-low heat. Gently warm the mixture until the cranberries soften and become slightly syrupy/glazed - about 5-10 minutes. In another small pan, heat the butter over low heat until it melts and begins to brown - about 4 minutes.

Add the cranberries and butter to the brussels sprouts; mix gently to combine. Season to taste with salt and pepper.
Approx 105 calories, 3 grams fat, 4.5 grams fiber, 3.2 grams protein
****
I recently saw a thread over at the foodie blogroll where people could post a picture of their kitchen, so that you can see where everyone spends their time cooking. I thought it would be fun to share some photos of my kitchen here (I also spent all weekend cleaning, so it actually looks presentable – ha!). It's pretty small and needs some help (I HATE my countertops!) but its mine and it serves its purpose.
By