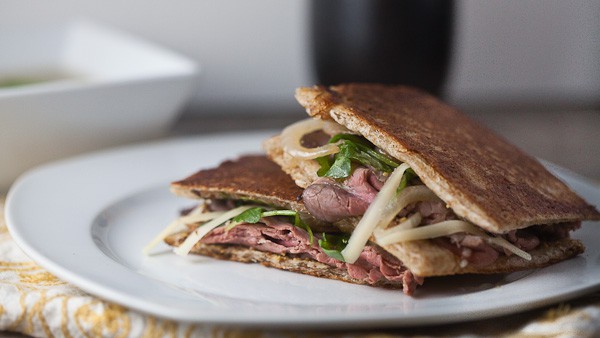 I'm only one post into Cookie Week but let's take a quick break to talk about this sandwich, which was inspired by the flavors of French onion soup. Yup, that's right: rare roast beef, soft, caramelized onions, and gooey gruyere cheese all tucked between two pieces of crisp bread. I could eat the panini every day of the week and be a happy camper; Shawn said it's "even better than a burger." Served on the side of some potato-leek soup, it was just about perfect.
When trying to come up with some unique ways to use Pillsbury Refrigerated Pizza Dough, I came up with the idea of using it as bread for sandwiches. There are only two of us in the house and we're generally not big sandwich eaters, so I rarely by bread – we just don't eat it fast enough and I don't like the way it tastes after its been refrigerated or frozen. It turns out that pizza dough – especially the artisan variety made with whole grains – was the perfect solution to my bread problem. It keeps in the refrigerator for a long time and bakes up quickly wen you need it, and one tube makes the perfect amount (and we each get a leftover sandwich for lunch the next day!)
I discovered that Pillsbury already has a few recipes on their site that uses the dough this way, so the idea wasn't as creative as I thought it was, but it's still a great tip and a method that I'll be using again!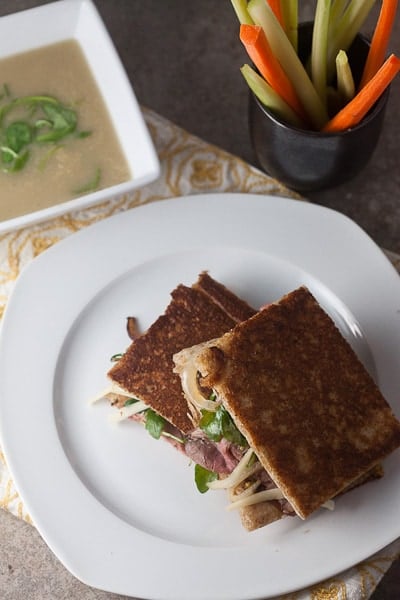 This post was sponsored by Pillsbury and I was compensated by General Mills/Pillsbury for my time creating this recipe. All opinions are my own.