Are you the kind of person who loves it when the syrup from your stack of pancakes creeps across your plate and onto your sausage? I totally am. Which is why I was through-the-roof excited to learn that Jones Dairy Farm makes an all natural maple sausage. I bought a few packs the last time I went to the grocery store, and it exceeded my expectations. It's seriously good – and seriously maple-y. (I don't know why I was so surprised; Jones doesn't mess around when it comes to sausage.)
Even though it's breakfast sausage, I thought it might work well in a savory recipe – and I was right. I made this easy pasta recipe the other night after a long day at the office and it was fabulous! The maple flavor of the sausage inspired me to use fall favorites like fennel and pumpkin. I also added a generous pinch of crushed red peppers to counteract the subtle sweetness of the maple and pumpkin, and some arugula to add a little color. It all came together perfectly, and the leftovers were great for lunch the next day.
The sausage is certified gluten free, so if you swap out your favorite gluten free pasta for the rigatoni this is an easy gluten free meal, too!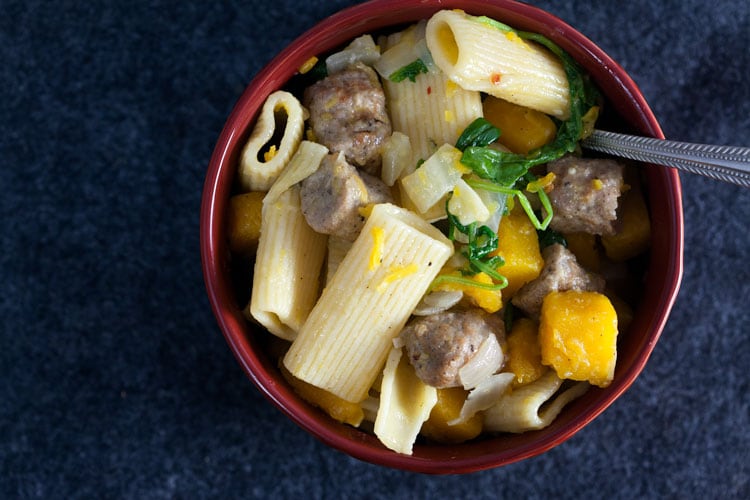 Rigatoni with Pumpkin and Maple Sausage
If pumpkins aren't your thing – or if you can't find small pie pumpkins – substitute butternut or any other hard winter squash. Cut your pumpkin ahead of time – or buy precut pumpkin or squash – to cut down on the prep time.
Ingredients
1 box (16 ounces) rigatoni
4 tablespoons olive oil, divided
1 onion, chopped
1 small fennel bulb, chopped
2 garlic cloves, minced
1 package Jones Dairy Farm® all natural golden brown maple sausage, cut into thirds
1 small pie pumpkin, cut into 1-inch pieces (about 4 cups)
1 cup water
4 cups arugula
1/4 teaspoon crushed red pepper flakes
freshly grated parmesan cheese, to taste (optional)
Instructions
Cook the rigatoni according to the directions on the package.
Heat two tablespoons of olive oil in a large pan over medium heat. Add the onion, fennel, and garlic. Cook 10 minutes, stirring occasionally, Add the sausage and cook 3 minutes.
Add the pumpkin and water; stir to combine. Cover and cook 10-15 minutes, or until the pumpkin is soft. Stir in the crushed red pepper; season with salt and pepper. Remove from heat.
Stir in the drained pasta, arugula, and remaining oil. If desired, top with freshly grated parmesan cheese.
I created this recipe for my client, Jones Dairy Farm. Thank you for supporting the products that keep me inspired in the kitchen!

Looking for more savory pumpkin recipes? Try Homemade Pumpkin Ravioli, Pumpkin Polenta with Chorizo and Beans, or Pasta with Pumpkin Cream Sauce.

By