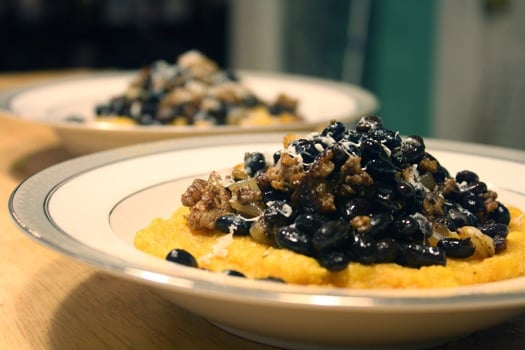 For the past few years, as soon as the cool weather sets in and apples and squash start appearing in the markets we start talking about having pumpkin polenta for dinner. I love the way the creamy polenta contrasts with the spicy topping. Its also extremely fast and easy to make – about 20 minutes start to finish! The dish also benefits from sitting in the fridge overnight – the polenta ill firm up and the flavors in the topping meld together. I recommend making extra so that you can have leftovers for lunch.
This is actually one of the first recipes I posted on this blog way back when. As you can see, I'm still making it and it's still one of our favorites. The recipe here is slightly different, and I recommend checking out the older version too. In that version, I use ground chicken and spices instead of chorizo and mix mozzarella into the polenta. Both recipes are delicious, and they each have their own strengths – I mix it up depending on my mood and on what I have in the kitchen. And I'll be nice an give credit where credit is due – even though its from a very unlikely source for me: this is based on a recipe from Rachel Ray. What can I say? She's not my favorite, but she does occasionally have a good recipe. 😉
I've mentioned this before, but I like to buy big bags of dried black beans (they're so cheap!) and cook up big batches that I break up and freeze. That means that I almost always have delicious beans on hand, and I can control the sodium level (unlike canned beans). One trick that I've learned for cooking dried beans is that if you leave the cover off the pan while they simmer you'll end up with more "bite" to the bean, and if you cover them while they cook they'll get very soft and almost mushy. For freezing, I like to cook them with the cover off. That way if I want a softer bean in my final dish I can cover them while I reheat them, but the option still remains for a firmer bean. In this dish, I like to keep the beans on the firmer side, so that there is some textural contrast with the soft polenta.
Pumpkin Polenta with Chorizo and Black Beans
1 Tbsp butter
3 cups chicken stock
1 cup cornmeal
1 cup canned pumpkin
1 tsp olive oil
1/2 onion, chopped
2 links chorizo, casing removed and crumbled*
1 Tbs apple cider vinegar
1 tsp cumin
1 tsp cinnamon
2 cups black beans
1/4 cup cotija cheese
Add butter and chicken stock to a medium saucepan set over high heat. Bring to a boil. Reduce heat to medium, and add cornmeal and pumpkin. Cook, stirring constantly, until the mixture thickens and becomes smooth (be very careful during this step! The mixture will bubble and pop and its very hot if it splashes on you!)

Meanwhile, set a sautee pan over medium heat. Add oil. When oil is heated, add the onions and cook until they begin to soften. Add the chorizo, and cook through. Add the vinegar, cumin, cinnamon, and beans. Cover and cook until heated through – about 5 minutes if cooking from frozen.

To serve, divide polenta between dishes. Top with the chorizo and bean mixture. Sprinkle the cheese over it all.

Serves 6.

Approx. 288 calories, 12 grams fat, 7.8 grams fiber, 12.6 grams protein

* Use unsmoked Mexican chorizo for this dish. If you have trouble finding this or don't eat pork, try the ground chicken and spices listed in the older version of this recipe.




By