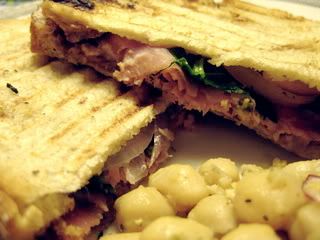 Tonight, I made another recipe that I saw first over at Je Mange la Ville. Love that blog. This panini was every bit as delicious as it sounded- fig jam, proscuitto, and goat cheese? I mean, come on! This does take a little more time than most of my recipes what with the jam and all, but you only need about an hour all together so it's not totally impossible for a weeknight. I knew I was going to be late tonight, so I had my husband start on the jam and the onions. They came out great and he had no complaints, so it must be really easy. Oh, did I mention the onions yet? They are so good. They taste like a blooming onion, but without the greasy breading.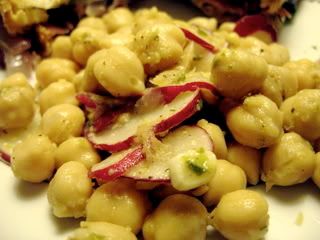 I wanted something different on the side, so I thought I'd try to recreate the chickpea salad that I had at The Ginger Man. Well, I was out of a bunch of ingredients that I planned on using, so mine was pretty different. It was super good though, with a nice texture and a bright flavor. I have a feeling that variations on this are going to be heavy in my rotation this summer.
For the salad:
1 large can chickpeas
5 radishes, thinly sliced.
1 lemon, juiced
1 tsp olive oil
3 T red wine vinegar
2 cloves garlic, minced
1 T dried mint
Some fresh parsley, chopped
kosher salt, and lots of cracked pepper
Rinse and drain the chickpeas. Toss with the radishes in a large dish. In a large bowl, combine lemon juice, oil, vinegar, garlic, mint, and parsley. Mix well. Add about 1/8 of the chickpeas. With a potato masher, mash chickpeas into the liquid until its nice and soft. Add the rest of the chickpeas and radishes, and toss to coat everything well. Add a little bit of kosher salt and lots of fresh cracked pepper.
For the sandwiches:
1/2 cup water
1/2 cup red wine
2 T sugar
1/2 cup dried calamaria figs , stemmed and halved
1/2 tbsp dried rosemary
1 medium red onion, cut into 1/4-inch-thick rounds
1 tbsp chilled butter, diced
1 cup loosely packed baby spinach
8 slices of good bread (I used a soft Italian)
1/4 lb prosciutto
4 oz goat cheese
1. Bring water, wine, sugar, figs, and rosemary to boil in small saucepan. Reduce heat and simmer until mixture is reduced to 1/2 cup, stirring occasionally, about 20 minutes. Cool slightly. Puree until it has a smooth consistency.
2. Preheat oven to 400. Place onion rounds on a baking sheet. Dot with butter and sprinkle with salt and pepper. Roast until tender, about 45 minutes.
3. Assembly sandwiches: Spread 4 pieces of bread with about 2 T fig jam. Top each piece with 1 oz cheese, prosciutto, spinach, and onion. Top with another piece of bread. Cook in a panini press; alternately, cook in a hot grill pan while placing a heavy weight (a can works well) on top of each sandwich to smoosh it together.
Serves 4.