When I saw the May 2010 Daring Cooks Challenge (hosted by Barbara of Barbara Bakes and Bunnee of Anna+Food), I had to laugh. I've owed Shawn a stacked enchilada for probably close to 10 years now. Back when we were only dating for a year or two, we went out to dinner one night and the restaurant that we frequented had one as their daily special. It sounded amazing, and he ordered it, but I wanted something with more vegetables so I got the pasta primavera. Which was awful. Apparently I was a budding foodie even at 16 or 17 years old. 😉 But I remember it well — the pasta and vegetables were overcooked to the point of mush and the whole thing was very bland. So I pouted, and we traded entrees. He had already taken a few bites of the enchilada and he knew how delicious it was, but he still gave it to me because he's that awesome.
BUT I haven't heard the end of it since. I vaguely remember trying to make a stacked enchilada a few years ago, but it wasn't very good at all and didn't count toward settling the debt. This one on the other hand? It's been repaid. Ten-fold.
At first I was a little intimidated by the recipe, which calls for making your own enchilada sauce, but it really isn't very difficult or time consuming at all. And it's totally worth it – I've never had an enchilada that was so incredibly fresh tasting, bursting with flavor in every bite. The original recipe was for just a plain chicken and green chile stacked enchilada, but I decided to mix it up with pork and pineapple in the filling and a fresh corn and avocado salsa over top. It sounds like a lot of different flavors, but they didn't compete with each other at all. They blended the perfect amount while still retaining their own identities. A think the crunch of the corn and the creaminess of the avocado really contributed a lot to this dish. While it's a very versatile recipe and the flavors can be changes in an infinite number of ways, I do think that it needs a fresh salsa on the top.
It's already been decided that I'll be making this again, but I think next time I'll use smaller tortillas (that might mean having to make them myself) or larger tortillas. The size that I ended up with here was just a little too much. I could have made one for us to split, but I knew that wouldn't go over very well. So I made two and planned to eat just half of mine. Yeah, that didn't happen. I have no sense of self-control when I have a plate full of food in front of me that tastes this good. So I'm thinking smaller tortillas for individual servings or larger ones to make a huge enchilada that you can cut up and serve like a pizza.
I know that I'm gushing, but words really can't describe how amazing this tasted. I made this and my strawberry-rhubarb tart in the same evening and let's just say that if I wasn't married already, I'm pretty sure that this meal would have sealed the deal. It also inspired Shawn to ask if I could create a new category of recipes called "Shawn's Favorites" so that he could look through them and pick something when I ask him what he wants to eat or when he needs to come up with something to cook. You'll see that category over in my sidebar — it's pretty empty for now, but it will grow. He's already told me a few others that he wants me to include. Not all of them are my favorites, but if you're looking for a recipe with some third-party validation — or just something likely to make a man happy — you might want to check that out.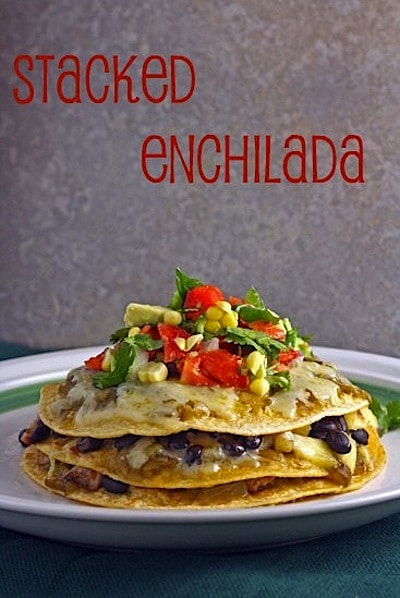 Pork and Pineapple Stacked Enchilada
Pork and Pineapple Stacked Enchilada Pork, pineapple, black beans, and cheese stacked between corn tortillas with homemade enchilada sauce, topped with a fresh corn and avocado salsa.
Print
Pin
Rate
Ingredients
3

Anaheim chiles

about 6-8 inches long

2 to

matillos

2

cups

chicken broth

1

clove

garlic

minced

¼

onion

mined

1

tsp

oregano

1

pinch

salt

1

pinch

black pepper

1

Tbs

cornstarch

1

boneless pork chop

½

fresh pineapple

cut into bite-sized chunks

1

can black beans

rinsed and drained

6

small corn tortillas

3

ounces

queso quesadilla

shredded (you could also use mild cheddar or Monterey Jack)

2

plum tomatoes

seeded and diced

1

ear fresh corn

1

avocado

diced

½

red onion

diced

1

dash salt

1

lime

juiced

¼

cup

fresh cilantro

chopped
Instructions
Begin by making the enchilada sauce: Light a grill and set it on high. Place the chiles on the grill and cook for several minutes until the skins turn black and begin to blister. Remove and allow to cool. Remove the papery leaves from the tomatillos and add those to the grill. Cook 1-2 minutes or until they just begin to soften. Remove and let cool. While the grill is on, grill the pork chop and the corn (keep the corn in the husk and cook over indirect heat — if your grill has an upper shelf that works well).

Remove the stem and seed core from the chiles. Use a knife to scrape away the outermost layer of skin (it will be very thin a film-like and should peel off fairly easily). Chop.

Use a blender or food processor to puree the tomatillos. Add the tomatillo puree, chopped chiles, broth, onion, garlic, oregano, salt, and pepper to a saucepan and bring to a boil. Reduce heat and let simmer for 10 minutes. Whisk in the cornstarch and let simmer another 10 minutes, or until the sauce is thickened.

While the sauce is cooking, use two forks to shred the grilled pork chop.

Assemble the enchiladas: Ladle a little bit of the enchilada sauce into the bottom of a large baking dish. Place two tortillas in the dish, side by side. Top each tortilla with 1/4 of each the pork, black beans, and pineapple. Spoon on a little bit of the sauce and add a little shredded cheese. Top with another tortilla and repeat to make a second layer. Top each stack with third tortillas. Cover with the remaining sauce and top with the rest of the cheese.

Bake at 450 for 10 minutes, or until the cheese had melted and the sauce has thickened.

While the enchiladas bake, prepare the salsa: Cut the corn away from the cob. In a large bowl, combine the corn, avocado, tomato, red onion, lime juice, and cilantro. Season to taste with salt.

Serve the enchilada stacks topped with the salsa.
Our hosts this month, Barbara of Barbara Bakes and Bunnee of Anna+Food have chosen a delicious Stacked Green Chile & Grilled Chicken Enchilada recipe in celebration of Cinco de Mayo! The recipe, featuring a homemade enchilada sauce was found onwww.finecooking.com and written by Robb Walsh.

By