When I saw the May 2010 Daring Cooks Challenge (hosted by Barbara of Barbara Bakes and Bunnee of Anna+Food), I had to laugh. I've owed Shawn a stacked enchilada for probably close to 10 years now. Back when we were only dating for a year or two, we went out to dinner one night and the restaurant that we frequented had one as their daily special. It sounded amazing, and he ordered it, but I wanted something with more vegetables so I got the pasta primavera. Which was awful. Apparently I was a budding foodie even at 16 or 17 years old. 😉 But I remember it well — the pasta and vegetables were overcooked to the point of mush and the whole thing was very bland. So I pouted, and we traded entrees. He had already taken a few bites of the enchilada and he knew how delicious it was, but he still gave it to me because he's that awesome.
BUT I haven't heard the end of it since. I vaguely remember trying to make a stacked enchilada a few years ago, but it wasn't very good at all and didn't count toward settling the debt. This one on the other hand? It's been repaid. Ten-fold.
At first I was a little intimidated by the recipe, which calls for making your own enchilada sauce, but it really isn't very difficult or time consuming at all. And it's totally worth it – I've never had an enchilada that was so incredibly fresh tasting, bursting with flavor in every bite. The original recipe was for just a plain chicken and green chile stacked enchilada, but I decided to mix it up with pork and pineapple in the filling and a fresh corn and avocado salsa over top. It sounds like a lot of different flavors, but they didn't compete with each other at all. They blended the perfect amount while still retaining their own identities. A think the crunch of the corn and the creaminess of the avocado really contributed a lot to this dish. While it's a very versatile recipe and the flavors can be changes in an infinite number of ways, I do think that it needs a fresh salsa on the top.
It's already been decided that I'll be making this again, but I think next time I'll use smaller tortillas (that might mean having to make them myself) or larger tortillas. The size that I ended up with here was just a little too much. I could have made one for us to split, but I knew that wouldn't go over very well. So I made two and planned to eat just half of mine. Yeah, that didn't happen. I have no sense of self-control when I have a plate full of food in front of me that tastes this good. So I'm thinking smaller tortillas for individual servings or larger ones to make a huge enchilada that you can cut up and serve like a pizza.
I know that I'm gushing, but words really can't describe how amazing this tasted. I made this and my strawberry-rhubarb tart in the same evening and let's just say that if I wasn't married already, I'm pretty sure that this meal would have sealed the deal. It also inspired Shawn to ask if I could create a new category of recipes called "Shawn's Favorites" so that he could look through them and pick something when I ask him what he wants to eat or when he needs to come up with something to cook. You'll see that category over in my sidebar — it's pretty empty for now, but it will grow. He's already told me a few others that he wants me to include. Not all of them are my favorites, but if you're looking for a recipe with some third-party validation — or just something likely to make a man happy — you might want to check that out.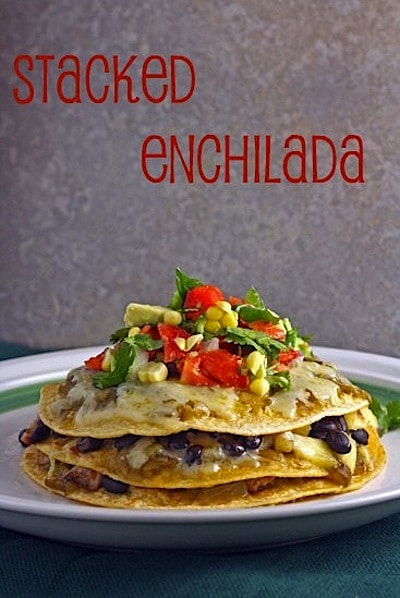 Our hosts this month, Barbara of Barbara Bakes and Bunnee of Anna+Food have chosen a delicious Stacked Green Chile & Grilled Chicken Enchilada recipe in celebration of Cinco de Mayo! The recipe, featuring a homemade enchilada sauce was found onwww.finecooking.com and written by Robb Walsh.