A simple Fall salad topped with roast butternut squash, juicy pomegranate arils and feta cheese and dressed with a slightly spicy roast jalapeño-pomegranate vinaigrette. (This recipe is the latest in my series for Bloom Fresh pomegranate arils.)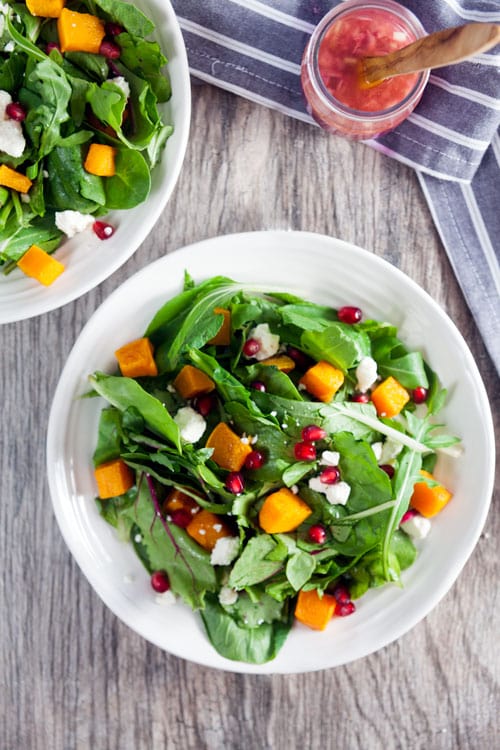 Lately, for some reason I've been buying winter squash faster than I can eat them – they seem to be multiplying on my kitchen counter. Luckily, if there's one combination of flavors that says "Fall" even more than pumpkin spice, it's butternut squash and pomegranate. Tart, juicy pomegranate seeds are the perfect way to balance out the sweetness of roast squash.
I combined the two on this pomegranate + roasted butternut squash salad in an attempt to help balance out all of that Fall baking I've been in the mood to do lately. As we head into the holiday season, this is a great recipe to keep in your back pocket for those times you're craving something on the lighter side.
I roasted a jalapeño along with the squash, then minced it an added it to the pomegranate vinaigrette. Roasting the pepper helps mellow out its spiciness and gives it a slightly smoky element that makes the dressing extra-special.
When you start with a packet of Bloom Fresh pomegranate arils, the dressing is a cinch to make. Whole pomegranates are a pain to deal with, so I love that they do the hard part for you. Plus, since they're hand-picked at the peak of ripeness, ensuring the arils are juicy.
I set aside some arils to use on top of my salad, then blend the rest in my Vitamix. It only takes a few seconds to turn them into a sweet-tart juice that forms the base of the dressing. It's ok if some pieces of the inner seeds remain – they'll add a nut-like crunch to your dressing – but, if you prefer, you can easily remove them by pouring the liquid through a mesh strainer.
If you liked this recipe, here are some more salad recipes you'll enjoy. Winter Salad with Roast Pears //Middle Eastern Cobb Salad with Hummus Vinaigrette//Farmhouse Salad with Citrus Vinaigrette

I created this recipe for my client, Bloom Fresh. Thank you for supporting the brands that keep me inspired in the kitchen.