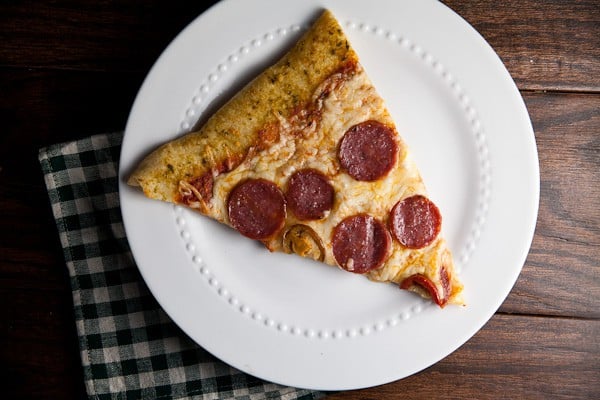 Are we back?
You might have noticed that this site was having some pretty serious problems earlier this week and kept crashing. Unfortunately, blogging isn't always as easy as taking a few pictures and writing a few paragraphs – there's lots of complicated technical stuff behind the scenes and sometimes I have to figure it out as I go along. Long story short, I've tried to cheap out the past few years and use a low-cost server but, unfortunately, you get what you pay for and I outgrew what they could offer. I moved everything over to a new company and hopefully everything will be running a lot more smoothly from here on out. As an added bonus, everything should load a little more quickly too. I think it's all back to normal now but if you notice anything funky going on, please let me know!
So… how about some pizza?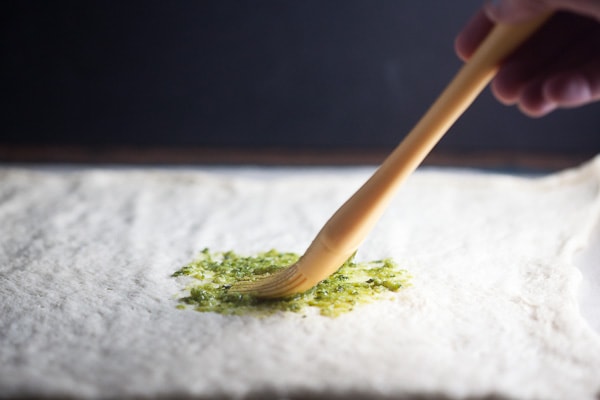 This is my last recipe in the series that I've been doing with Pillsbury and this time I wanted to tackle the crust itself. I mean let's face it – that naked edge of crust that you hold your slice by is pretty boring. It's no wonder that generations of kids have left them behind or that pizza companies are always coming up with new gimmicks like stuffing it full of cheese or turning it into garlic knots. I decided to spice mine up with pesto. I covered the raw dough with a thin layer of basil-y pesto before par-baking it, then topped it as usual. It was super simple, but really perked the pizza up and made sure there was tons of flavor in every bite.
I also discovered a new way to cut pizza like this – it was kind of a lightbulb moment. Pillsbury crusts are rectangular, but I don't like square pizza slices. They just aren't right! I usually shape the dough into rounds, but then the piece end up kind of short and squat and aren't really foldable. Solution? Cut long triangular slices across the pizza, stretching from one long edge to the other. You'll have four slices from each edge (they'll will fit into each other almost like teeth) and they'll be wonderfully foldable and floppy. Just like pizza should be.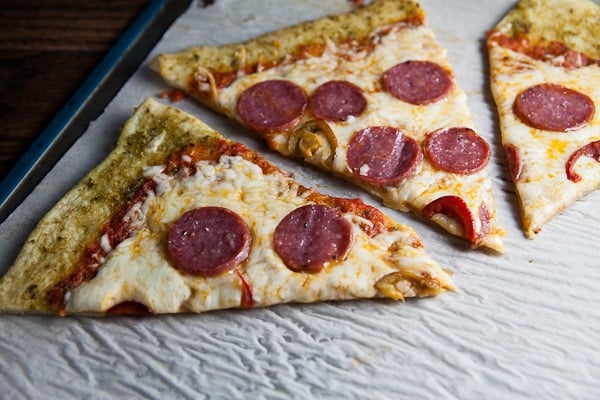 Pesto + Salami Pizza
A thin layer of pesto baked onto the crust of this pizza means you'll get tons of flavor in every bite! Salami and cherry peppers are a favorite topping in our house, but feel free to switch it up with whatever you like. I bet it would be delicious with lightly breaded pieces of eggplant and fresh mozzarella![br] For the best results, look for a thick pesto that isn't too oily.
Print
Pin
Rate
Ingredients
1

can

13.8 oz Pillsbury® Refrigerated Thin Crust Pizza Crust

2

ounces

prepared Pesto

½

cup

Marinara Sauce

4

ounces

shredded Part-Skim Mozzarella Cheese

2

ounces

thinly sliced Hard Salami
Instructions
Heat oven to 425F. Grease baking sheet. Unroll dough. Brush from edge to edge with pesto, covering completely. Bake 10 minutes or until crust begins to puff and brown.

Spread marinara over pizza crust. Top with mozzarella and toppings. Bake 15 minutes. Let cool 5 minutes before slicing.
This post was brought to you in partnership with Pillsbury. I was compensated for my time creating this recipe. All opinions are my own.

By