Hot and Sour. Sweet and Salty. Creamy and Crunchy.
I spend a lot of time thinking about various flavors and textures and how they'll work together. Cooking is a lot like art: colors that are next to each other are pretty and soothing; flavors that are close to each other work together, but can be bland. Contrasting colors (across from each other on the wheel) give a big intense, impact; contrasting flavors give a recipe its "wow factor." It's why bacon goes so well with chocolate and pineapple's so delicious in spicy curry.
Liberte yogurt asked me to create a few "perfect pairing" recipes for them. The catch is that they weren't looking for recipes that use yogurt (which I do all the time); instead, they were looking for recipes that go along with yogurt to create a decadent experience.
One of the first things I thought of was biscotti. Liberte Mediterranee is made from milk and cream, giving it a super rich, luxurious texture and flavor. The crispy biscotti makes the yogurt seem even creamier, and the creamy yogurt makes the biscotti seem even crunchier.
Of course the biscotti are pretty perfect on their own, too. They're crispy, except for where they're studded with creamy white chocolate. They're sweet, but the ground pistachios add salty, nutty flavor to every bite.
I paired these Pistachio and White Chocolate Biscotti with French Vanilla Yogurt. Crumble a cookie on top, or just dip it in – who needs a spoon?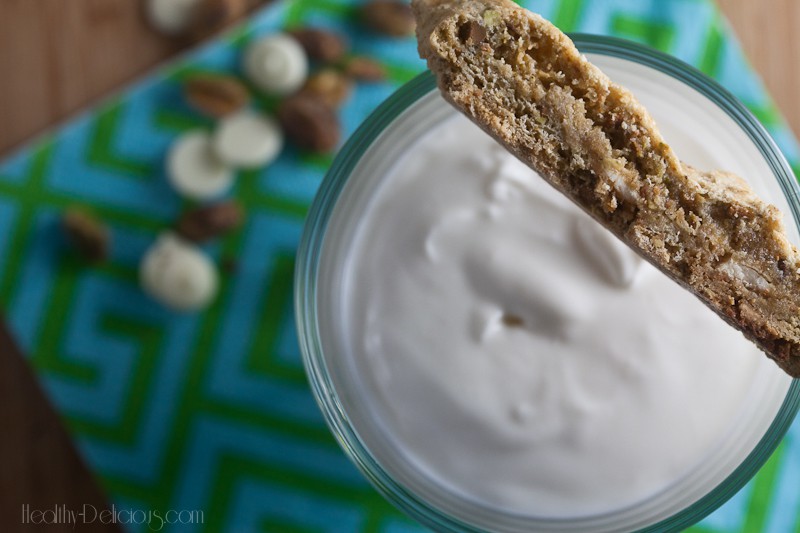 This post was created in partnership with Liberte Yogurt; I was compensated for my time creating the perfect pairing recipe for pistachio and white chocolate biscotti. All opinions are my own.