Hot and Sour. Sweet and Salty. Creamy and Crunchy.
I spend a lot of time thinking about various flavors and textures and how they'll work together. Cooking is a lot like art: colors that are next to each other are pretty and soothing; flavors that are close to each other work together, but can be bland. Contrasting colors (across from each other on the wheel) give a big intense, impact; contrasting flavors give a recipe its "wow factor." It's why bacon goes so well with chocolate and pineapple's so delicious in spicy curry.
Liberte yogurt asked me to create a few "perfect pairing" recipes for them. The catch is that they weren't looking for recipes that use yogurt (which I do all the time); instead, they were looking for recipes that go along with yogurt to create a decadent experience.
One of the first things I thought of was biscotti. Liberte Mediterranee is made from milk and cream, giving it a super rich, luxurious texture and flavor. The crispy biscotti makes the yogurt seem even creamier, and the creamy yogurt makes the biscotti seem even crunchier.
Of course the biscotti are pretty perfect on their own, too. They're crispy, except for where they're studded with creamy white chocolate. They're sweet, but the ground pistachios add salty, nutty flavor to every bite.
I paired these Pistachio and White Chocolate Biscotti with French Vanilla Yogurt. Crumble a cookie on top, or just dip it in – who needs a spoon?

Pistachio + White Chocolate Biscotti
Ground pistachios mean these crispy biscotti have great, nutty flavor in every bite. Enjoy them with coffee or crumbled over yogurt. [br] For neat cookie slices, use a sharp, serrated knife and cut the biscotti with one motion – don't saw back and forth.
Print
Pin
Rate
Ingredients
⅓

cup

salted pistachios

¾

cups

sugar

1

egg

½

tsp

vanilla extract

1

cup

flour

½

teaspoon

baking soda

¼

cup

white chocolate chips

1

egg white

1

teaspoon

water
Instructions
Heat oven to 350 degrees. Line a cookie sheet with a silicon mat or parchment paper. Add the pistachios to a food processor or blender; process 20-30 seconds until the texture resembles wet sand.

In a mixing bowl, beat together the sugar, egg, and vanilla extract. Slowly stir in the flour, baking soda, and ground nuts. Stir in chocolate chips. Turn the dough out onto the prepared cookie sheet.Shape it into a log, about 2 inches wide and 1 1/2 inches tall (the dough will be very dry and crumbly but will come together as you work it.)

In a small dish, mix together the egg white and water. Brush into the biscotti log. Bake 25 minutes. Remove from oven and let cool 15 minutes.

Reduce oven temperature to 200 degrees. Transfer biscotti to a cutting board. Use a serrated knife to cut into 16 logs, each about the width of your finger. Arrange on cookie sheet. Bake 10 minutes on each side or until crisp.

Cool completely and store in an airtight container.
Nutrition Facts
Pistachio + White Chocolate Biscotti
Amount Per Serving
Calories 99
Calories from Fat 18
% Daily Value*
Fat 2g3%
Protein 2g4%
* Percent Daily Values are based on a 2000 calorie diet.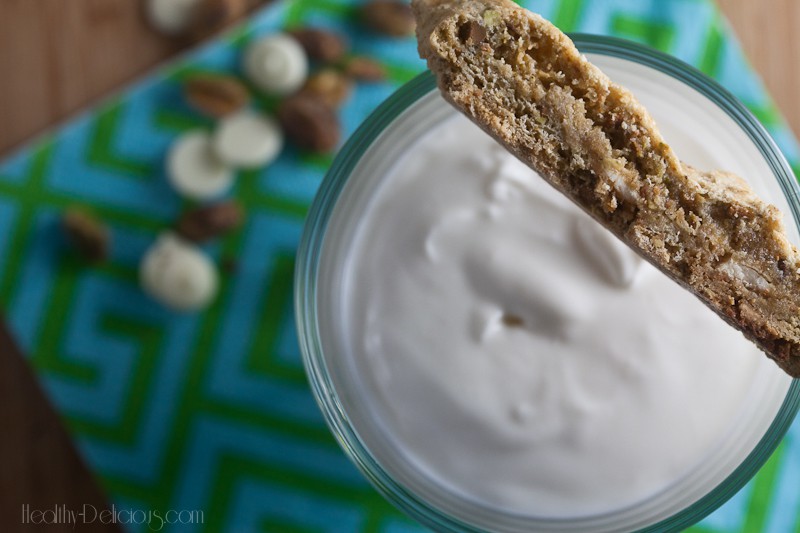 This post was created in partnership with Liberte Yogurt; I was compensated for my time creating the perfect pairing recipe for pistachio and white chocolate biscotti. All opinions are my own.

By