Boneless, skinless chicken breasts smothered in pepper jack are served over sautéed zucchini noodles tossed in a fresh cilantro vinaigrette for a healthy dinner that packs a punch.
Can we talk about boneless, skinless chicken breasts for a minute? I practically lived off them when I first started cooking for myself, but I hardly ever buy them now. I can't even remember the last time I used them in a recipe that I shared here – it might have been these hoisin glazed chicken kebabs from almost a year ago. They're just not as flavorful as other cuts, like thighs.
But they were on sale recently and for some reason I felt like I should buy two packages. Then I got home and had to figure out what to do with them. Since they're so boring on their own, I like to use them in recipes that are jam-packed with flavor. Half went into the crockpot for honey-bourbon pulled chicken. The other half got smothered in GO VEGGIE pepper jack. Because if there's one way to make a boring ingredient more exciting, it's smothering it in cheese. Right? Right.
To be fair, I was also looking for an excuse to try GO VEGGIE's new Pepper Jack Deli Slices. I really enjoyed the sriracha slices that I used on my Homemade Veggie Burgers with Carrot-Celery Slaw a few weeks ago, and I was excited to try another flavor. Like the sriracha slices, the pepper jack deli slices are lactose, soy, and gluten free – they're made with a rice base – and have 35% fewer calories and 30% less fat than ordinary cheese. They also melt really nicely, covering the chicken in this recipe like a nice, snuggly blanket of deliciousness.
Playing off the Southwest theme dictated by the pepper jack, I served these smothered chicken breasts on a bed of zucchini noodles tossed with charred tomatoes and corn in a cilantro vinaigrette. The result was a flavor-packed healthy meal that will be an easy answer time I find myself with chicken breasts in the fridge.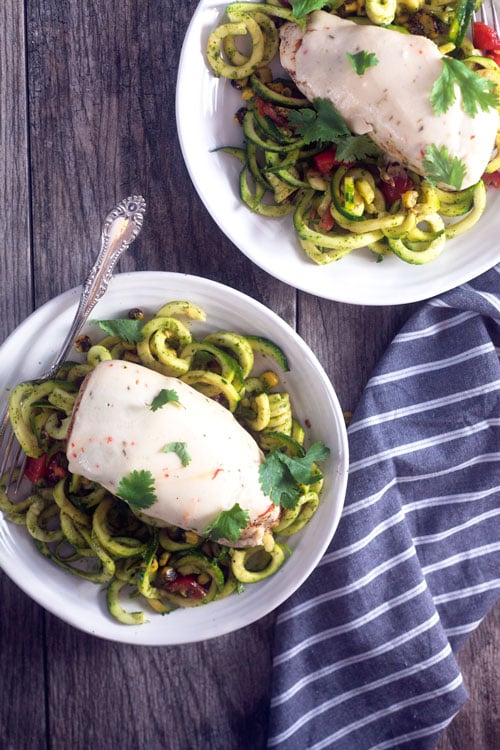 I created this recipe for my client, GO VEGGIE. Thank you for supporting the brands that keep me inspired in the kitchen!