Boneless, skinless chicken breasts smothered in pepper jack are served over sautéed zucchini noodles tossed in a fresh cilantro vinaigrette for a healthy dinner that packs a punch.
Can we talk about boneless, skinless chicken breasts for a minute? I practically lived off them when I first started cooking for myself, but I hardly ever buy them now. I can't even remember the last time I used them in a recipe that I shared here – it might have been these hoisin glazed chicken kebabs from almost a year ago. They're just not as flavorful as other cuts, like thighs.
But they were on sale recently and for some reason I felt like I should buy two packages. Then I got home and had to figure out what to do with them. Since they're so boring on their own, I like to use them in recipes that are jam-packed with flavor. Half went into the crockpot for honey-bourbon pulled chicken. The other half got smothered in GO VEGGIE pepper jack. Because if there's one way to make a boring ingredient more exciting, it's smothering it in cheese. Right? Right.
To be fair, I was also looking for an excuse to try GO VEGGIE's new Pepper Jack Deli Slices. I really enjoyed the sriracha slices that I used on my Homemade Veggie Burgers with Carrot-Celery Slaw a few weeks ago, and I was excited to try another flavor. Like the sriracha slices, the pepper jack deli slices are lactose, soy, and gluten free – they're made with a rice base – and have 35% fewer calories and 30% less fat than ordinary cheese. They also melt really nicely, covering the chicken in this recipe like a nice, snuggly blanket of deliciousness.
Playing off the Southwest theme dictated by the pepper jack, I served these smothered chicken breasts on a bed of zucchini noodles tossed with charred tomatoes and corn in a cilantro vinaigrette. The result was a flavor-packed healthy meal that will be an easy answer time I find myself with chicken breasts in the fridge.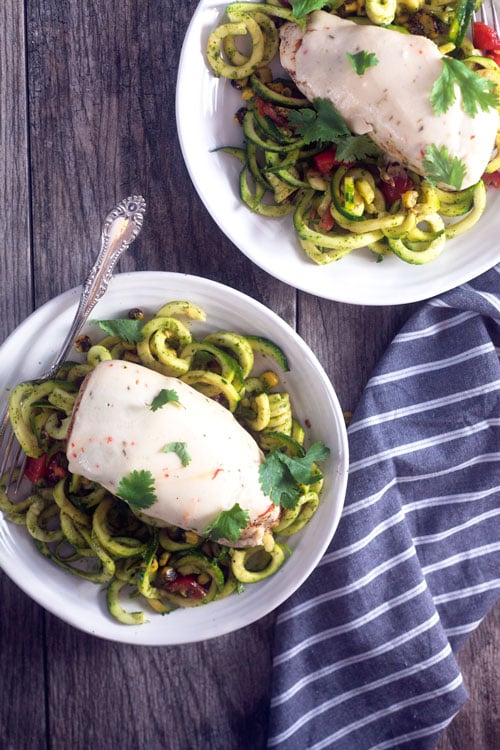 Ingredients
2

medium zucchini

or 3 small, cut into thick noodles

1

cup

frozen roast corn

4

small tomatoes

like campari

1

cup

packed cilantro

2

tablespoons

red wine vinegar

¼

cup

olive oil

salt and pepper

4

boneless

skinless chicken breasts (about 1 pound total)

¼

teaspoon

chili powder

8

GO VEGGIE Pepper Jack Deli Slices
Instructions
Use a spiralizer to cut the zucchini into thick noodles.

Heat a skillet over high heat. Add the whole tomatoes and cook 4-5 minutes, or until the skin begins to blacken and blister. Immediately remove from heat and let cool. Return the pan to the burner and add the zucchini noodles. Cook 2-3 minutes, or until just softened. Add the corn and cook until heated through.

Transfer the zucchini and corn to a large mixing bowl. Chop the tomatoes and add them to the bowl.

In a food processor, process the cilantro, oil, and vinegar, until smooth. Season with salt and pepper, then pour over the vegetables. Toss to coat.

Meanwhile, spray a nonstick skillet with cooking spray and set it over medium-high heat. Season the chicken breasts on both sides with salt, pepper, and chili powder. Add the chicken to the hot pan and cook until golden brown on one side, about 5 minutes. Turn the chicken and cook it another 5-7 minutes, or until it's just cooked through. Reduce the heat to medium-low and cover each pie of chicken with two cheese slices. Cover and cook 5 minutes to melt the cheese.

Serve the smothered chicken over the zucchini noodles.
I created this recipe for my client, GO VEGGIE. Thank you for supporting the brands that keep me inspired in the kitchen!

By