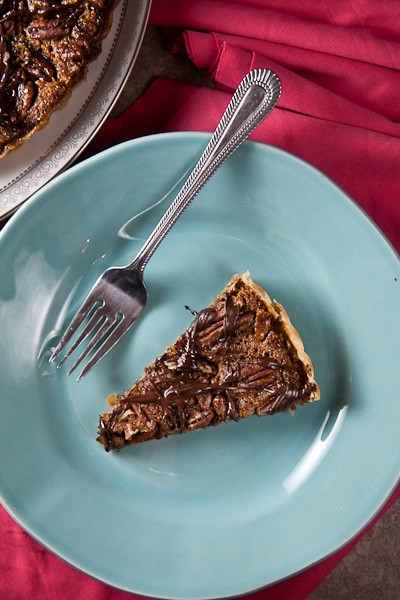 This Thanksgiving, I have so many things to be grateful for that they could fill an entire blog of their own. I've been incredibly blessed.
But I'd like to take minute and say thanks to all of you: thank you for indulging me as I share my recipes and for helping this little blog turn into something that means a lot to me and that has led me on an incredible journey. It's given me confidence, (in the kitchen and out of it), given me the opportunity to travel to new places and make new friends (and to reconnect with old ones!), and has turned into quite the interesting little job (I know I complain about being overworked sometimes but I never forget how lucky I am to have not one but two jobs that I love with all of my heart). I couldn't have done any of it without your support.
I'm contributing two dishes to tonight's feast: Shaved Brussels Sprouts Salad and this Pecan-Bourbon Tart. I've been making this tart for years, and it's Shawn's favorite dessert. Every bit as sticky and gooey as your favorite pecan pie, this tart gets a warm, complex flavor from bourbon and molasses. Cut your slices small; a little bit of this goes a long way!
Happy Thanksgiving from my kitchen to yours!
Lauren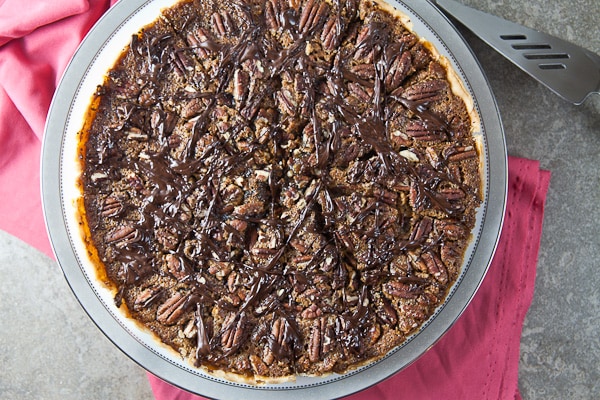 Pecan-Bourbon Tart
Serves 16
Prep Time: 10 minutes; Total Time: 60 minutes
Adapted from Cooking Light
Ingredients
1 cup Packed Light Brown Sugar
3/4 cup Light Corn Syrup
3 Tablespoons Flour
2 Tablespoons Bourbon
2 Tablespoons Molasses
1 Tablespoon Butter, melted
pinch Salt
2 Eggs
1 Egg White
1/2 cup Pecan Halves
1/2 package Refrigerated Pie Dough (or your favorite recipe)
1/4 cup Dark Chocolate Chips
Preparation
Heat oven to 350.
In mixing bowl, combine first 9 ingredients, stirring well with a rubber spatula to ensure there are no lumps.
Coat 11-inch tart pan with cooking spray. Press dough into pan. Pour filling into crust; top with pecans. Bake 45 minutes or until set. Cool completely.
Place chocolate in microwave safe bowl; microwave on high for 30 seconds. Stir; microwave another 30 seconds. Stir until melted. Use a fork to drizzle melted chocolate over tart.
By