This is another cooking light recipe that I adapted. Its really good
and easy to make- perfect for a hot day where you want something nice,
but don't want anything heavy or to spend a ton of time in the
kitchen. I served it with a simple tortelli salad (tortellini, shaved
romano, and Newman's Own light Cesear), and Reisling.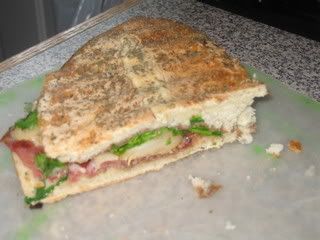 1 pear, peeled and cut into thin slices
1/4 t. sugar
1/2 loaf focaccia, cut in half horizontally
2 t balsamic vinegar
1/2 c arugula
1/4 c fresh Romano cheese, shaved
8 slices prosciutto (about 2 ounces)
Heat a pan over medium-high heat. Throw in proscuitto and heat until
blistered. Removed from pan. Add pear to pan and sprinkle with sugar.
cook about 3 minutes, until golden brown.
Brush cut sides of bread with vingar. Layer pear, cheese, prosciutto,
and argula over bottom half of bread. Cover with top half.
Heat the sandwich either on a forman grill or in a skillet. If using
the forman grill, press down hard on the top so the sandwich gets nice
and smooshed. Hold it down like that for about 5 minutes until it's
done cooking. If using a pan, Place a cast iron skillet on top of the
sandwich (or a lighter pan with a brick in it) to smoosh it.
Once cooked, cut sandwich into two portions. This will make 2 large
dinner-sided servings.