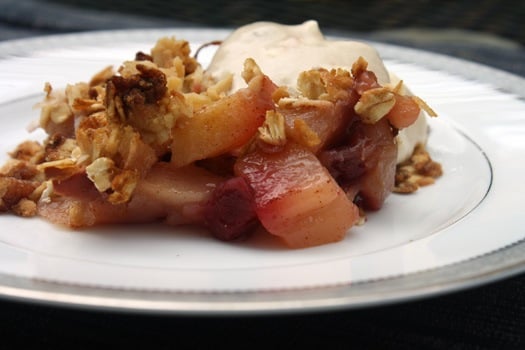 Without a doubt, pears are my favorite fruit. I've loved them ever since i was a little kid. I actually remember one time when I was about 5 or 6 and I was eating one at my grandmother's house it was sooo juicy and sooo good. I ate the entire thing. And I mean the ENTIRE thing! My mom came in and asked when I did with the core and I was like "what?" Yeah, I ate that pear core, seeds, and all!
Anyway, it's easy to overlook pears in the Fall because of all of the excitement that surrounds apples. I decided to make a pie in celebration of the season's "other" fruit. When thinking about what I wanted my pie to look like, I decided on a crumb top. Then I remembered that Deb over at Smitten Kitchen posted an apple breakfast granola crisp that looked amazing, and my pear crumble as born. With a combination of pears, apple, cranberries and a lightly sweetened granola topping, this crumble is delicious for breakfast, dessert, or anything in between.
I was originally planning to use solely pears and cranberries for this dish, but it didn't seem like there would be enough bulk. I had some apples laying around with no plans (I bought them to snack on, but they were baking apples – I hate when bins aren't labelled with that information!) so I threw those in too. I thought the combination of fruits tasted great, but the predominant flavor was definitely pear.
This crumble was great served either warm or cold: warm topped with a scoop of ice cream makes a wonderful dessert, but I've been eating it cod for breakfast with a dollop of yogurt. Yum! I'm especially liking Brown Cow cream top yogurt these days. It's a nice switch from my usual Greek yogurt – very creamy and rich with great flavors. These photos feature the coffee flavor. I've also been enjoying the vanilla topped with peanut butter puffins a lot!
Pear and Cranberry Breakfast Crumble
4 pears, peeled, cored, and cut into medium chunks

2 apples, cored and cut into medium chunks

1 cup cranberries

1/2 lemon, juiced

3 Tbs brown sugar

2 Tbs cornstarch

1 tsp cinnamon

1 pinch salt

2 Tbs butter

1/4 cup honey

1/2 cup whole wheat flour

2 cups old-fashioned oats

1/4 cup pecans, chopped

1/4 cup shredded coconut
Preheat oven to 450.
Mix pears, apples, cranberries, lemon juice, cornstarch, brown sugar, cinnamon, and a pinch of salt. Spread in a medium baking dish (9×13 works well).
Melt butter and honey in a saucepan over medium heat. Stir in flour, oats, pecans, and coconut. Combine until all of the oats are moist and the mixture becomes crumbly. Spread over the fruit mixture in your baking dish. Top with an additional sprinkle of cinnamon.
Cover with foil and bake for 30 minute. Remove foil and bake an additional 15 minutes, or until fruit is soft and topping crisps.
Serves 12.
Approx 188 calories, 5.5 grams fat, 6 gram fiber, 3 grams protein

****Bertolli Sauces update!!! Thanks for all of your support – you got me into the top3!! For those of you attending the festival, be sure to drop by, say hi, and grab a bite to eat. Fo those of you that can't make it, I'll be sure to take loads of pictures. 🙂 Thanks again!