Disclosure: This post was sponsored by Betty Crocker.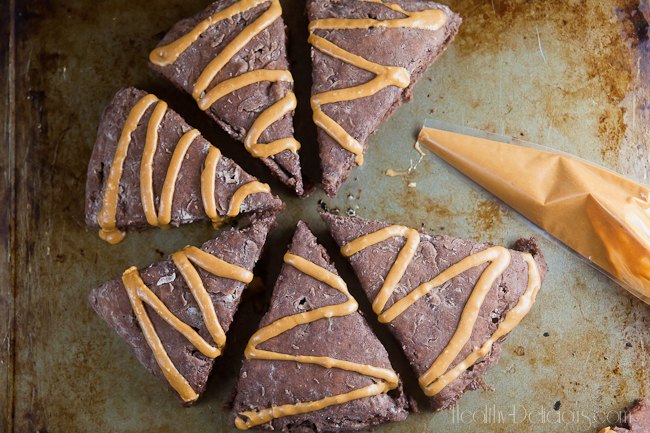 Fall is here and I'm in full-on hibernation mode. I just want to curl up on the couch with a fluffy comforter, a giant mug of tea, and and a chocolatey snack. Of course I have a gazillion things to do so that isn't really an option but a girl can dream, right?
These chocolate peanut butter scones are definitely part of that dream.
They have a great texture that's dry and crumbly around the edges but rich and dense in the middles. Chocolatey without being too sticky sweet, they're topped with a fabulous peanut butter drizzle! Paired with a cup of tea, they make a great dessert.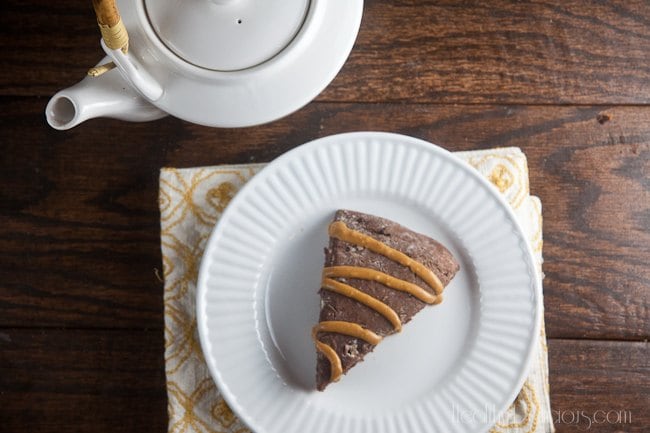 If you've never made scones before, they can be a little tricky because the technique is pretty different from cake, cookies, or breads. that you might be used to. This recipe actually starts with box cake mix (actually, a super awesome new Reese's cupcake mix that comes with peanut butter filling!) though, which takes some of the guesswork out of it. Beyond that though there are really just two things to remember:
1) Start with cold butter. Really, really cold butter! You don't want it to melt or cream into the dough like when you make cookies, instead the mixture should look really crumbly and flecked with pea-sized pieces of butter. It will melt in the oven and help give the scones their flaky/crumbly texture. I actually like to stick my butter in the freezer for about 5 minutes before dicing it.
2) Go with the flow! We had a really humid summer and I found that it really affected the amount of flour that I needed to use. If you have to add a little more, it's ok! You're looking or the batter to be about the consistency of banana bread batter: very soft, but not too sticky. (It will be softer than cookie dough, but not quite as soft as brownie batter.)
(Also, the peanut butter drizzle doesn't hold up very well in the humidity so I find that it's best to do that part right before you eat these.)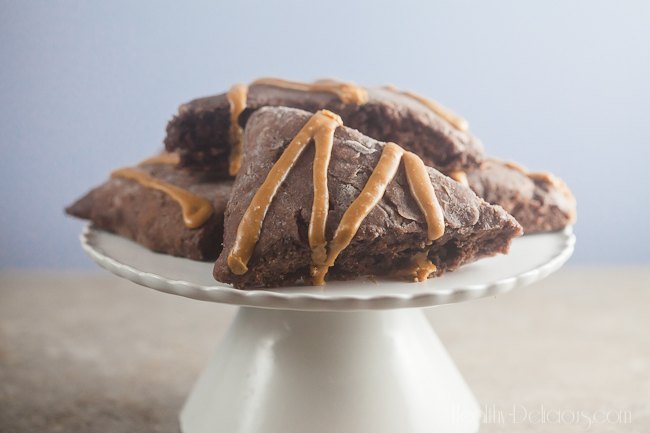 Peanut Butter Cup Scones
The humidity will determine how much flour is needed. The dough should be thick but moist, similar to a quick bread.
Print
Pin
Rate
Ingredients
1

box Betty Crocker ® Reese's Peanut Butter and Chocolate Cupcake Mix

4

cups

Gold Medal ® white whole wheat flour

2

sticks cold butter

diced

2

cups

cold nonfat milk

2

Tablespoons

water
Instructions
Heat oven to 400F. Line a baking sheet with parchment.

Stir together cake mix and flour. Using a pastry blender or two knives, cut in the butter until the mixture is dry and crumbly, with pieces about the size of peas. Pour in the milk; stir just until dough comes together.

Divide dough in half and shape into two 10-inch rounds on prepared baking sheet; if necessary, brush with additional flour to make the dough less sticky. Use a floured knife to cut each round into 8 wedges. Bake 20-25 minutes, or until center is set. Let cool.

Just before serving, mix together peanut butter mix and water. Spoon into pastry bag; snip off end. Drizzle peanut butter glaze over scones. Serve immediately.
By