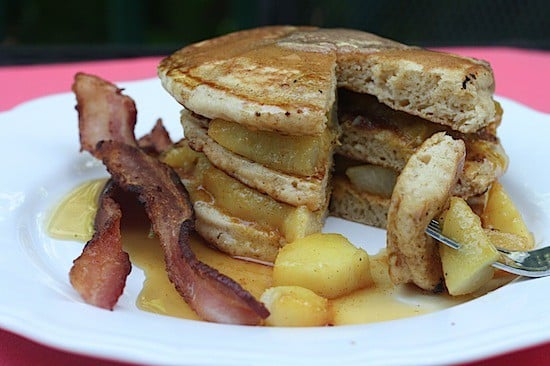 Has anyone else noticed that peaches have been fantastic this summer? Their sweet smell has completely overtaken the produce section of my local grocery store, and I find myself filling my basket with them every week — they're soft and juicy and perfect. I'd almost go as far as to say that the great peach season makes up for the less than stellar showing that strawberries had earlier this year.
Needless to say, when General Mills asked me to develop a recipe that would "make something good, better" using Land O'Lakes' new Cinnamon Sugar Butter Spread, it didn't take me long to decide on a creation that featured fresh peaches. At first I considered making a peach cobbler, a staple of summertime cookouts and a dish that's perfect for sharing with friends, but then I thought that if there's anything better than peach cobbler, it's peach cobbler that you can eat for breakfast. These fluffy whole wheat pancakes layered with stewed cinnamon sugar peaches capture all the flavor of the favorite summertime dessert and repackage it as perfect breakfast treat.
Before we get to the recipe, just take a look at that butter. How have they never thought of this before?! I'm pretty much obsessed with this stuff. A touch of oil blended in with the cream means that its always the perfect texture for spreading. I've been putting it on everything from toast to carrots to sweet potato latkes. I also think it would make a killer buttercream frosting. It's a little pricey (about $2.30 for what ends up being the equivalent of a little less than two sticks of butter) but you can like them on Facebook or follow them on Twitter to be notified of available coupons and get more recipes.
Speaking of coupons, if you signup for the Land O'Lakes Rewards Plan you'll get a coupon for 75 cents off — which thanks to Price Choppers new coupon doubling policy means you can get some of this cinnamon sugar goodness for about 80 cents. Sweet!
Ingredients
2

cups

Whole Wheat Flour

3

Tbs

Sugar

1

tsp.

Salt

2

Tbs.

Baking Powder

4

Tbs.

Land O'Lakes Cinnamon Sugar Butter Spread

separated

1

large Egg

beaten

2

cups

Milk

1

tsp.

Vanilla Extract

3

Peaches

peeled and sliced

Optional: Land O'Lakes Cinnamon Sugar Butter Spread and maple syrup for serving
Instructions
Combine the flour, sugar, salt, and baking powder in a mixing bowl.

Melt 2 tablespoons of butter in a large skillet. Add the melted butter, egg, milk, and vanilla to the dry ingredients. Stir gently, being careful not to over mix the batter — it's okay if it's a little lumpy!

Add the remaining butter and peaches to a pot set over medium heat. Cover and allow the peaches to stew while you cook the pancakes.

Heat a lightly greased skillet or griddle over medium heat until small drops of water splashed onto the pan sizzle. For each pancake, spoon 2 tablespoons of batter into a small circle. Cook until bubbles form and the surface of each pancake starts to look dry (2-3 minutes). Flip and cook until the other side is browned (1-2 minutes).

Layer stacks of three pancakes with the stewed peaches. Top with additional cinnamon sugar butter spread and maple syrup, if desired.

Tip: For extra-fluffy pancakes, separate the egg yolk from the white. Add the yolk along with the other wet ingredients as in the original recipe. Use a hand mixer to beat the white until it is thick and foamy and holds a stiff peak (about 3 minutes). Gently fold the beaten white into the pancake batter just prior to cooking.
FTC Disclosure: Although I purchased the butter spread myself, I was compensated for developing this recipe. All product opinions are my own and, as always, all recipes are original.

By