I recently received the December issue of Fine Cooking Magazine in the mail, and this dish jumped out at me. It combines some of my favorite things: pasta, brussels sprouts, blue cheese, and pecans. I couldn't wait to make it! But when a quick flip to the back of the magazine showed me that their version had a whopping 670 calories, I knew I would have to put my own spin on it to lighten it up. With just a few simple substitutions, my version clocks in at around 266 calories – not too bad!!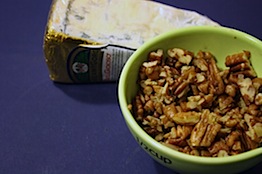 I know that Brussels sprouts are one of those things that a lot of people just don't like, but I think this dish might make anyone fall in love with them. The sprouts are shredded and then roasted, which gives them a nutty flavor. Tossed with the pasta and covered in gorgonzola cream sauce, you'll forget that they'r even there. If you REALLY hate Brussels sprouts though, you can probabaly get a similar flavor by substituting shredded green cabbage.
What I loved the most about this dish was the texture – some of the sprouts will begin to darken and become crispy as you roast them. When you combine that with the crunchy nuts, chewy pasta, and creamy sauce you end up with a dish that's really a lot of fun to eat.
Pasta with Brussels Sprouts, Pecans, and Gorgonzola Cream Sauce
1 lb Brussles sprouts, trimmed

1 Tbs olive oil

salt and pepper

1/2 lb pasta (I used my favorite shape -cavatappi!)

1/2 Tbs butter

1/4 cup chopped pecans

1 shallot, minced

1/2 cup fat free milk

1 tsp arrowroot (or cornstarch)

1/2 cup crumbled gorgonzola

1/2 lemon, juiced
Preheat oven to 500.

Meanwhile, shred the Brussles sprouts by using a food processor with a slicing attachment. Toss with oil, salt, and pepper and arrange on a baking sheet in a thin layer. Bake for 15 minutes or until they are under and the edges have become slightly charred.

Cook the pasta according to the directions on the package.

Melt the butter in a small pan over medium heat. Add the pecans until the butter browns and becomes slightly syrupy. Remove pecans and set aside. Return the pan to the stove and add the shallots. Cook until softened. Add the milk and bring to a gentle simmer. Stir in the arrowroot and allow to thicken slightly. Remove from heat and stir in the cheese.

Drain the pasta and toss with the Brussels sprouts, pecans, and cheese sauce.

Serves 4.

Approx. 266 calories, 5 grams fat, 3.5 grams fiber, 10 grams protein




By