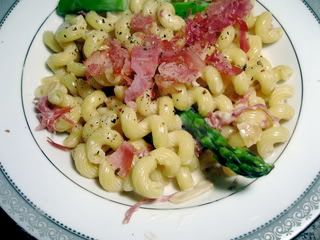 Last week really wore me out, and when I tried to come up with a menu for this week my brain was fried. I couldn't come up with aything good on my own, so I turned to my starred folder in my google reader. I think one of the best things about reading blogs in the reader is that I can easily mark the posts I want to go back to- so for weeks like this when I can't come up with much on my own I have a bunch of new recipes to try out.
This pasta was based off of Mommy Gourmet's entry to the royal foodie joust. I love using corkscrew pasta because it really holds the sauce… and as you know by now I'm a sucker for anythign with prosciutto or lemon. I made some changes to her recipe and lightened it up considerably. Even lightening it up, I still thought it was really rich. Delicious, by rich. It wasn't too rich for my husband though. He gobbled down two bowls full!
I really enjoyed the sauce… very nice and creamy with just a hint of romano. I wasn't a huge fan of the asparagus in it though, which is odd since I usually love asparagus. Mine were kind of fat so that could have been part of the problem- they didn't mix in very well- but we both thought that next time this might be better with spinach or broccoli instead.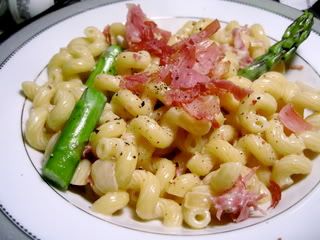 1 lb cork screw pasta (I suggest whole wheat if you can find it in this shape)
1 tbs butter
1/8 lb prosciutto, diced
1 onion, chopped
1 clove garlic, minced
zest of 1 lemon
2 tbs flour
1c. white wine (dry would be best, but I used Reisling because I had an open bottle and it was fine)
1-1/4 c milk
1 c. of cream
1/4 c. of grated romano
1 bunch asparagus, blanched (or spinach or broccoli)
cracked black pepper
Cook pasta according to package directions.

Heat a pan over high heat. Add half the prosciutto and cook until it becomes crisp. Set aside.

In a small saucepan, melt butter over medium heat. Add onion and garlic and cook until translucent. Add lemon zest, remaining prosciutto and flour, stirring well. Slowly add wine. Bring to a boil, then lower heat. Let this reduce until it thickens- it will become almost like a thin pudding. Add the milk and again, let the mixture reduce. Add cream and cook until it is warmed through and thickens slightly. Stir in cheese and asparagus.

Combine sauce with pasta. Top with crispy prosciutto and cracked black pepper.

Serves 8.

By