This paleo chocolate chunk banana bread is so soft and tender you'd never guess it's gluten and dairy free!
I've been craving bananas a lot lately. The problem is, I keep buying them and then completely forgetting about them. So now my freezer is stuffed full of overripe bananas. That means one thing – banana bread!
This was my first time trying paleo banana bread, and I have to say I'm completely wowed. The texture is perfect! Photos don't do this banana bread justice. There's just no way to show you how unbelievably soft and squishy it is – you'll just have to take my word for it. (Or make it and see for yourself!) Straight from the oven, it's super soft and almost cake-like. After spending a night in the fridge, it firms up and its practically indistinguishable from traditional quick bread.
Dairy free chocolate chips or pure cacao chunks add that little something extra that makes this banana bread a real treat.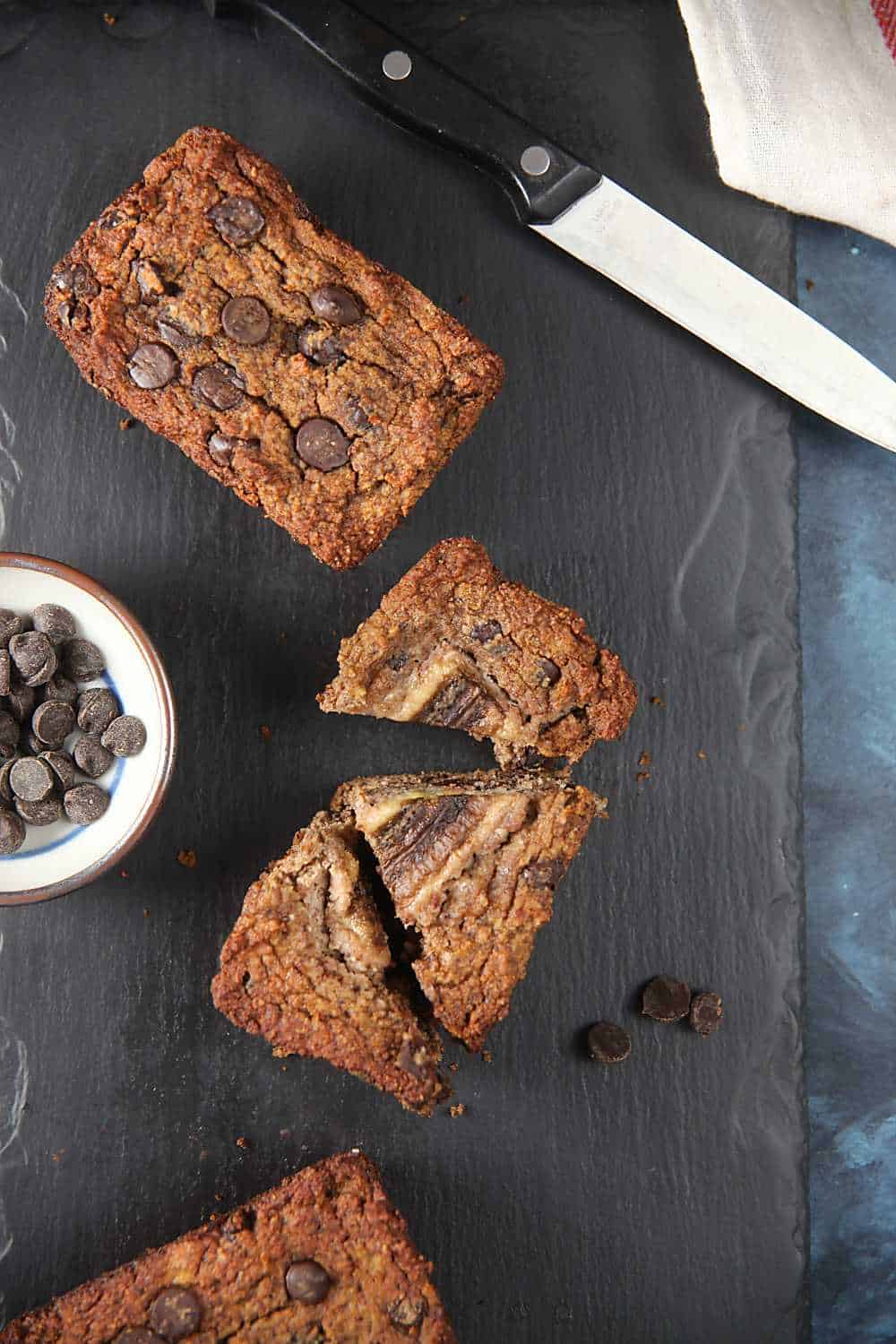 While I was doing research for this recipe, I came across a lot of banana bread recipes that used nut butter. While I know that nut butter is great for gluten-free baking (it's the main ingredient in my Grain-Free Chocolate Peanut Butter Cupcakes) it can make things a little dense. Most of the other recipes I found used coconut flour, which is lighter and fluffier but can get a little gummy since it absorbs so much liquid (recipes with coconut flour tend to use a lot of eggs.)
I knew I didn't want either of those things, so I took a gamble and used a combination of almond flour and coconut flour for this paleo chocolate chunk banana bread. Since the coconut flour requires a little more liquid, I added more mashed banana than normal. I also sweetened this paleo banana bread with maple syrup and added a generous dash of cinnamon for an extra level of flavor.
I was in the mood for chocolate in my bread, so I added dark chocolate chips to the batter. Enjoy Life dark chocolate chips are dairy free but they do contain a small amount of cane sugar. To keep this banana bread strict paleo, cut chunks from a bar of 100% cacao (I like Ghiradelli.)
The bread is super soft and prone to falling apart into giant crumbs when it's first baked. I found that it held together best when baked in mini loaf pans. If you prefer a full size loaf, bake the bread for 45-55 minutes and allow to cool completely, then refrigerate for an hour before removing it from the pan.
Looking for more banana bread recipes? Try my Cajeta Banana Bread or Dairy Free Banana Cupcakes with Brown Sugar Buttercream.