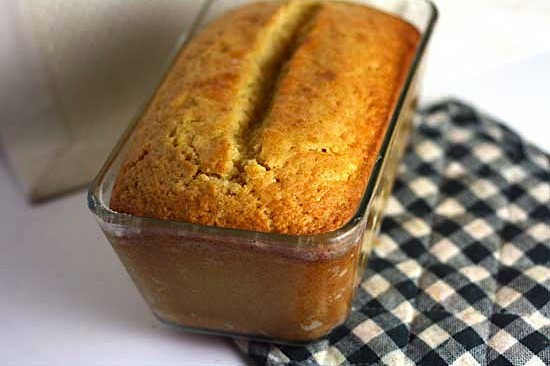 In these last days of winter, it can be hard to find inspiration for new recipes – I'm tired of starchy winter vegetables, and it seems like there's nothing in season. It's times like these when I like to turn to citrus. Navel oranges are at the peak of their season and offer a refreshingly bright note amid winter's heavier flavors. While this orange pound cake can be enjoyed any time of the year, I especially love the reminder that nicer weather is around the corner.
This rich cake was inspired by one of my favorite breakfasts – Greek God's Vanilla, Cinnamon, and Orange yogurt. I love the way the spicy, musky notes of the cinnamon and vanilla balance out the tangy citrus, and thought they would be a good way to jazz up my standard pound cake recipe. I really loved the way this came out — the sugars from the fresh orange juice caramelized and created a delicate "crust" around the cake, which is dense and tender.
This cake is perfect straight out of the pan but for an extra-special treat, try lightly toasting it under the broiler or in a hot pan.
Kitchen Tip: Ever wonder how bakeries get their loaf cakes to crack in a perfectly straight line across the top, rather than in a haphazard mess? Simply use the edge of a knife to draw a line of melted butter across the top of the cake before you put it in the oven — like magic, the crack will form right where the line was drawn. When tasting for doneness, do not insert your tester into the crack — since no crust forms here, the cake will be moister and may lead you to think that the cake isn't ready. Instead, insert your test about an inch to one side or the other.
Orange, Vanilla Bean & Cinnamon Pound Cake
1 stick

Butter

, Softened

1 cup

Sugar

2

Eggs

1-1/2 cups

Flour

1/2 tsp.

Baking Powder

1/2 tsp

Baking Soda

1/2 tsp

Cinnamon

1 tsp

Salt

2

Navel Oranges

, Zested and Juiced

1 container (6 oz) plain, nonfat

Greek Yogurt

1

Vanilla Bean
Preheat oven to 350F.
Using a mixer to cream together butter and sugar until light and fluffy. Stir in eggs and zest.
In another bowl, combine the flour, baking powder, baking soda, cinnamon and salt. In a third bowl, combine the orange juice and yogurt. Scrape the vanilla bean seeds into the wet ingredients, and stir to combine.
Add half of the dry ingredients to the butter and sugar mixture and mix gently — just enough to combine without over-mixing. Add the wet ingredients and stir gently. Mix in the remaining dry ingredients. (The batter should be thick and wet, like in the photo above.)
Pour the batter into a greased loaf pan and bake for 55 minutes, or until a tester inserted into the center comes out clean.
Allow to cool completely before slicing.
Yields 16 servings.
Approx. 165 calories, 6 gram fat, 26 gram carbohydrate, 2 grams protein