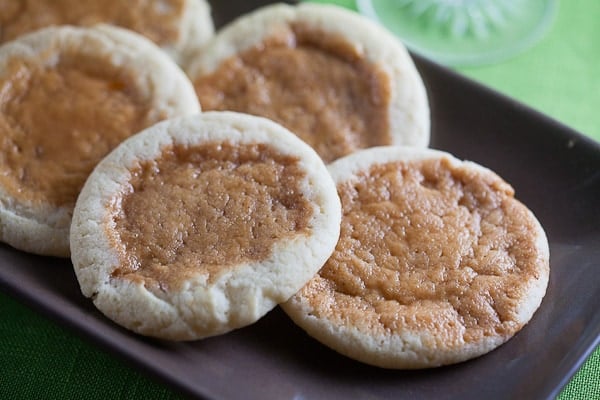 The chocolate peppermint ice cream cookie sandwiches that I posted on Monday probably won't work for your holiday cookie exchanges, but these sugar cookies should more than make up for it. Flavored with a hint of orange zest and infused with caramel that's slightly burnt – cooked just enough to give it a deep, rich note that balances out its sticky sweetness – these chewy cookies are elegant and sophisticated. They're the kind of cookies that go better with champagne than with milk.
I'm pretty sure that these were Shawn's favorite out of the three cookie recipes I developed for Pillsbury. He's not generally a fan of sweets – unlike me, he can usually eat a cookie or two, enjoy them, and then not have any more – but these were a different story. He actually went back for seconds! These cookies, along with the ice cream sandwiches, are the only baked goods I've made in a long time that didn't either end up getting mostly thrown out or brought in to work.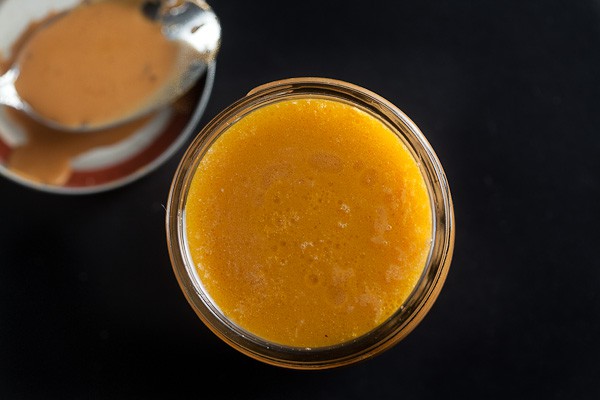 You can use store bought caramel sauce or dulce de leche if you must, but you really should try making your own. It's not difficult at all and the subtle bitterness that you can get by cooking it just a touch longer than it needs to be is delicious (just think about the complexity of the burnt sugar on top of a creme brûlée and you'll know what I mean.) You'll end up with a good amount of caramel sauce left over; it will keep refrigerated for several weeks and is delicious spooned over ice cream or stirred into hot chocolate.
Also, as I logged in to write this post I noticed that it's the 500th recipe that I shared here on Healthy. Delicious. 500 – that's unbelievable! In the new year, I think I'll have to go through ome of my archives and rework a few of my older recipes – I'm sure there are some great ones hidden in there that I've forgotten all about.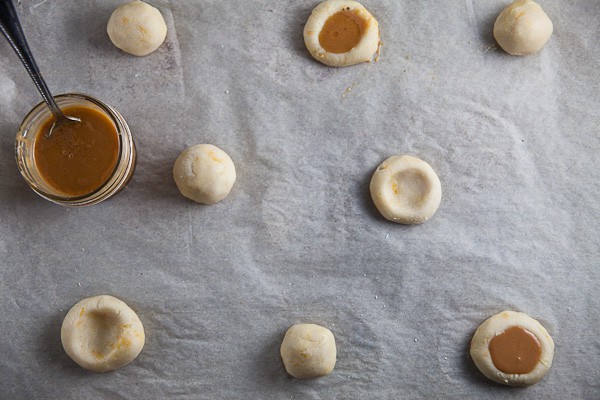 Orange Sugar Cookies with Burnt Caramel
Although these cookies are delicious warm from the oven, the caramel topping can be quite sticky until they are fully cooled. Avoid stacking them while they're warm or they might stick together.
Serves 16
Prep Time: 20 minutes; Total Time: 40 minutes
Ingredients
1/2 cup Sugar
2 Tablespoons Butter, melted
1/4 cup Heavy Cream
1 roll (16.5 ounces) Pillsbury Refrigerated Sugar Cookies
1/4 cup Flour
Zest from 1 Orange
Preparation
Make the caramel sauce: In a large saucepan, heat suagr over medium-high heat. As sugar begins to melt, swirl the pan side to side frequently to help the sugar melt evenly. Continue to cook and swirl until the caramel turns deep amber. Cook 1 minute, or until the sauce begins to smoke; immediately remove from heat. Stir in cream; the mixture will bubble then settle down. Stir in the butter.
Heat oven to 350F. Line 2 cookie sheets with parchment.
In large bowl, crumble cookie dough. Add flour and orange zest; stir until well combined. Divide dough into 16 balls. Arrange dough balls 2 inches apart on prepared baking sheets. Use a clean thumb or the back of a spoon to create a small indentation in the center of each cookie; fill each well with 1/4 teaspoon caramel sauce.
Bake 10 minutes. Brush each cookie lightly with additional caramel sauce and bake 2-4 minutes or until cookies are set and caramel begins to bubble; remove to wire rack and cool.
Disclosure: This post was brought to you in partnership with Pillsbury. I was compensated for my time creating this recipe. All opinions are my own.

By