I've been holding out on you; I'm sorry. I received a review copy of the fabulous new cookbook, Power Foods, a few weeks ago but things have been crazy around here and I just haven't had the time or energy to write the kind of review that would do it justice. Instead I kept the book to myself, making recipe after recipe, thinking about how excited I was to get to share it with you all. Well, enough is enough. I hope that you'll accept this muffin recipe as an apology.
Power Foods is a beautiful, softcover cookbook from the editors of Whole Living Magazine. The concept of the book is simple: 150 recipes featuring 38 healthy ingredients — from asparagus and Swiss chard to salmon and pecans. Unlike a lot of other cookbooks that are published this time of year Power Foods isn't a "diet" cookbook; it simply promotes eating healthy, whole foods that are chock-full of nutrients. That's my kind of cookbook!
I really like how this book is laid out. It starts with a one-page overview of each "power food" — explaining the food's health benefits, providing tips for purchasing and storage, and directing the reader to specific recipes in the book that use the highlighted ingredient. Following that section are the standard cookbook chapters: breakfasts, starters & snacks, sandwiches & wraps, soups & stews, salads, main dishes, side dishes, and desserts. Finally, there's a nifty little section that they call "The Basics" that includes informative overviews of things like oils, herbs, and sweeteners, as well as nutritional breakdowns for each "power food."
There honestly isn't a single thing that I don't love about this cookbook – I'm completely smitten. Gorgeous, full-page photographs accompany most of the recipes, nutritional information is included for each recipe, and the ingredient lists are simple and straight forward (I've made a few substitutions here and there — like using oat bran instead of wheat bran in the recipe below — but the only thing I've actually had to buy especially for this book is flax).
And the recipes? Delicious and creative. These applesauce muffins were fantastic for breakfast. The walnut-crusted chicken breasts along with the shredded Brussels sprouts salad made a great weeknight dinner (it was on the table in under 15 minutes). Turnip was an interesting and welcome surprise in the paprika shrimp. I can't wait to try the soba noodle soup, or the quinoa and turkey patties, or the halibut in green tea broth. I know, I'm swooning again. This book is just that awesome. I've never said this on this blog before, but here it goes: if you have any interest in healthy cooking at all, buy this book. Now. It's $16.44 on Amazon and worth every cent.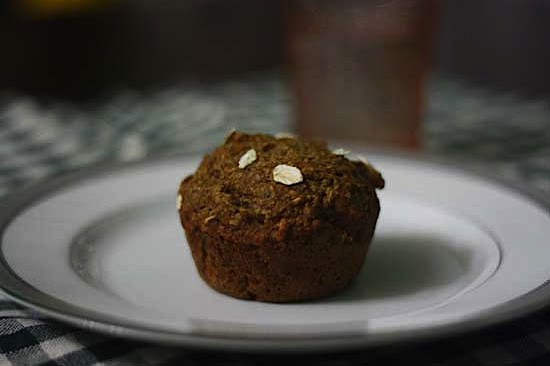 Oat Bran-Applesauce Mini Muffins
Reprinted from Power Foods
Yields 24
Loaded with soluble fiber, the old-fashioned oats in these muffins help reduce cholesterol and regulate blood sugar. Dates and applesauce — both full of fiber, vitamins, and natural sugars — create a complex caramel flavor when combined with the honey. (Go ahead and make these muffins in a full sized tin if you want. I did that and got 12 muffins from this recipe, cooking time didn't need any adjusting. -LK)
2 cups unsweetened Applesauce
2 ounces Dates, pitted and chopped
1 cup Wheat Bran
1/2 cup low-fat Buttermilk
1 Egg
2 Tbs. Honey
3/4 tsp. freshly grated Ginger
1/2 tsp. Vanilla Extract
1/2 cup plus 2 Tbs Flour
2 Tbs. ground Flax
1-1/4 tsp. Baking Soda
1/4 tsp. Salt
1/4 tsp. Allspice
1/4 cup plus 1 Tbs. Rolled Oats (not instant)
Preheat oven to 375F. Cook applesauce and dates in a medium saucepan over medium heat, stirring frequently, until reduced to 1-1/4 cups — 15-20 minutes. Transfer to a large bowl and let cool completely.

Add bran, buttermilk, egg, honey, ginger, and vanilla to applesauce mixture, stirring to combine. Let stand 10 minutes.

Whisk together flour, flax, baking soda, salt, allspice, and 1/4 cup oats. Stir into the wet ingredients.

Coat two mini muffin tins with cooking spray. Spoon batter into cups, filling each to the brim. Sprinkle the remaining oats over the muffins. Bake, rotating the tins halfway through, until a tester inserted in the middle of a muffin comes out clean — 20-23 minutes. Let cool completely.

Per muffin: 43 calories, 1 g. saturated fat, 4 g. unsaturated fat, 9 g. carbohydrates, 1.4 g. protein, 1.6 g. fiber

Disclaimer: I received a free copy of Power Foods to review and was given permission to reprint the recipe above. All opinions are my own, and my review is honest.

By