I can't believe it's already been almost three weeks since the NYC Wine and Food Festival! I really hate when bloggers say that they're going to post about something another time and then never do, so I'm really sorry that it's taken me so long to post about it. It's just that the event was so big and so amazing that I really didn't know where to start. So I guess I'll just dive right in…
Saturday started bright and early with a presentation by Alton Brown, one of my favorite Food Network personalities. He definitely didn't disappoint! His presentation focused on wine and molecular gastronomy, and it was interesting to see how easy some of the fancy tricks you see on TV really are to do at home. The first thing he made was little caviar-like port spheres, which he served over steak. It really didn't look difficult to do at all, and I might try to replicate them some time when I'm feeling adventurous. He also made frozen bellinis using a stand mixer and liquid nitrogen that was fun but a little less friendly for the home cook. Alton has a great sense of humor and had a fun Q+A session following the demo where he let us in on a few secrets like that he doesn't actually have a sister named Marsha and that he does in fact know who the next Iron Chef is (but he's not telling).
The main draw for the Food and Wine festival is the tasting hall, where there were tables and tables of samples from restaurants, wineries, and brands. I spent some time helping out at the ShopRite booth (there's a picture of me wearing a hideous tee shirt and apron that you will never ever see) before setting out to taste everything I possibly could.
My absolute favorite sample of the day was the lobster scrambled eggs with trout roe, creme fraiche, and brioche from High Point Bistro. The eggs were creamy and custardy and every bite was infused with rich lobster. (The woman working at the table told me the eggs are a regular feature on their menu. I've definitely made a mental note to eat there sometime.)
Other tastes that I really enjoyed included Braised Short Ribs with Star Anis and Curried Squash from 21 Club and Biscoff Tiramisu from the Shop Right Pavilion. (Don't tell anyone, but I actually went back for seconds of the tiramisu.) I also tried more variations on cupcake flavored vodka than I ever knew existed.
(This post is long and image heavy, so please click through to continue reading)
Throughout the day, there were more presentations by celebrity chefs. I stuck around to listen to Fabio Viviani (of Top Chef fame) talk about different types of olive oil — he said to use regular olive oil, not extra virgin, when you're cooking since it has a lower smoke point and won't burn as quickly — and Paula Deen talk about butter (what else?) before I decided that my feet had enough for the afternoon and headed bak to the hotel for a quick nap. Unfortunately Anthony Bourdain, Michael Symon, and most of the other chefs that I really would have loved to see in person were mostly presenting on Sunday, not Saturday, or I would have stuck around longer.
After a short break, we headed off the The Art of the Taco, hosted by Bobby Flay. This was one of many themed events happening throughout the city during the festival, and Shawn and I agreed that it was a much better value than the Grand Tasting. Tickets cost about the same, but this event was smaller and generally less overwhelming.
At the event, there were about 30 chefs who each did their own take on a taco. The lighting was bad and the tequila was flowing so I didn't take too many pictures, but I did get plenty of notes!
Of course, we headed straight for Bobby Flay's station before it got too crowded. I haven't had the best luck with celebrity chefs so I honestly wasn't expecting much from his crispy Smoked Salmon Taco but it was actually one of the best of the night! I also really enjoyed Kelsey Nixon's Chile Braised Lamb Taco, Dan Silverman's Rock Shrimp, Cactus, and Queso Taco, and a spicy Brisket and Avocado Taco from Creekstone Farms. Shawn's favorite was the Cretan Spiced Lamb Taco from Michael Psilakis.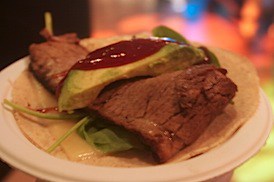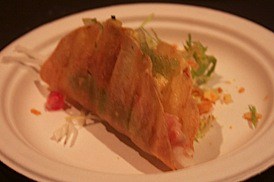 Of course, along with the good food there were also a few major disappointments. I literally spit out Alex Guarnaschelli's BBQ Pig Taco (and will never trust her judgement on Chopped again). Foie gras is delicious but has no reason to ever be wrapped in a tortilla. And Heather Carlucci Rodriguez's lime custard in the dessert room tasted oddly like fish. (The patron popsicles, on the other hand, were fabulous. I just wish they weren't so cold that they stuck to my lip!)
All in all, it was a great weekend filled with good food. The weather on Sunday was beautiful, so we walked around the city for hours to burn off some of the calories. It was the pretty much the perfect end to a perfect weekend.
I would like to Thank Shop Rite for providing me with tickets to the Grand Tasting and the Art of the Taco Event. These tickets were given to me both in exchange for me helping them out at the event and to thank me for my contributions to their Potluck blog. ShopRite was a sponsor of the festival, but all opinions in this post are my own and I was under no obligation to write about my experience.

By