Birthday cake energy bites are made from wholesome ingredients like oats, nut butter, and whey protein – plus rainbow sprinkles for good measure.

Earlier this summer, Shawn and I started going to the gym a few nights a week. I know – I'm just as shocked as you are! I'm definitely a couch potato at heart. We started with aqua zumba, then progressed to other aqua classes before I also fell in love with spinning. It's great, and I'm definitely feeling better about myself.
The only downside to our new routine is that it means that I don't start cooking dinner until pretty late – and by the time I get to it, I'm STARVING! Enter, birthday cake energy bites. They're just enough to hold me over, without making me too full to work out or giving me a stomachache.
Energy bites aren't 100% new to me – I've shared my chocolate peanut butter energy balls and my "Take 5" energy bites here already – but this birthday cake version is by far my favorite. Instead of being stuffed with textured ingredients, these are creamy and fudge-like.
Most energy balls are sweetened with dates, but I find their flavor can be overpowering. For these, I let the sweetener in my protein powder do the heavy lifting. The combination of vanilla and almond extracts that give them their "cake batter" flavor also reads sweet without adding sugar. Of course, what's birthday cake without sprinkles? A few rainbow sprinkles on the outside give these energy bites their final dose of sweetness, plus a little bit of crunch. (Sprinkles might not be the healthiest choice, but there are only a few and they make me smile.)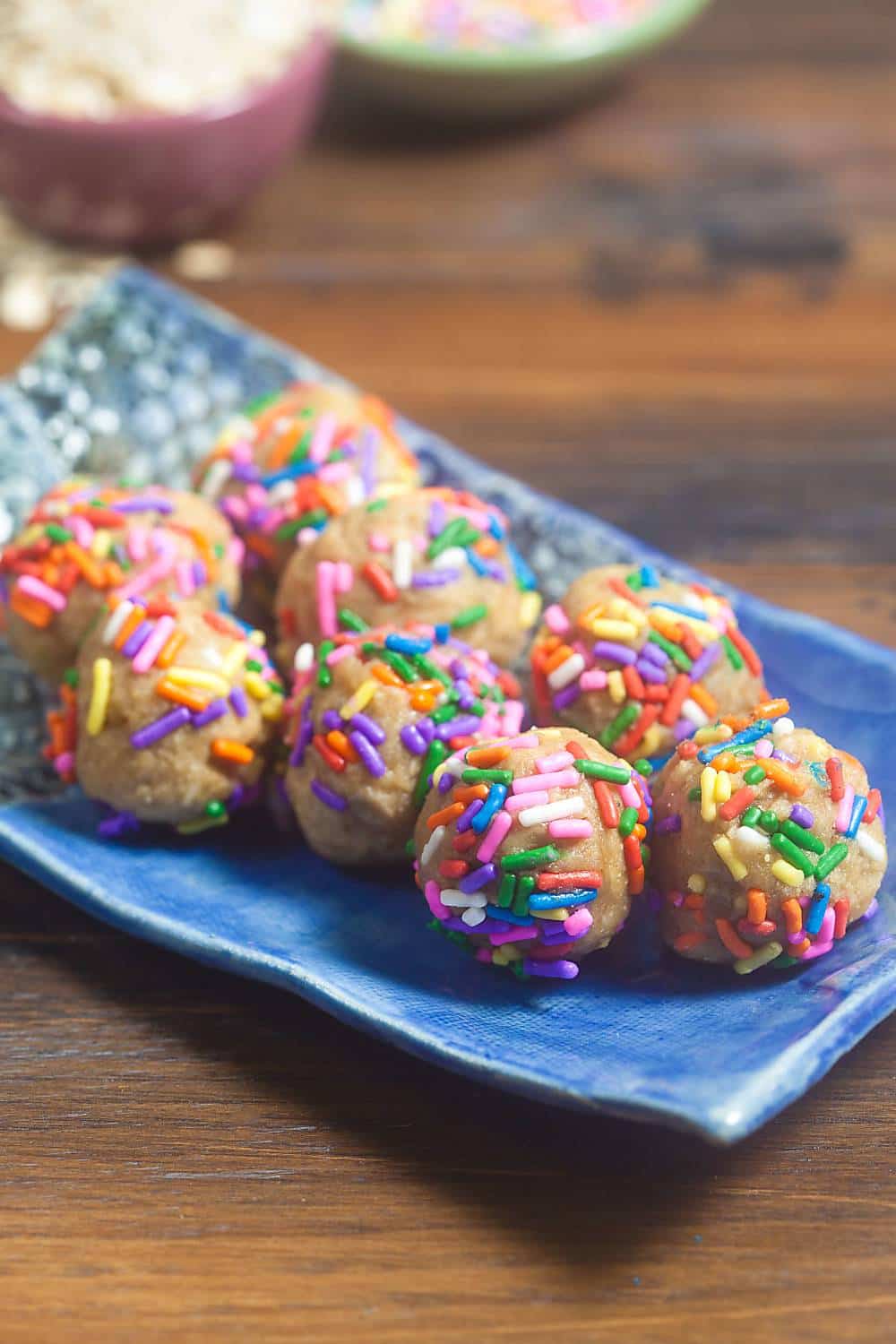 How to make birthday cake energy bites
To make these energy bites, start by blending oats into flour. Oats have a neutral flavor and the flour will help the bites bind together. I add rolled oats for a smidge of texture, cashew butter, vanilla and almond extracts, vanilla protein powder (I'm still loving 365's vanilla whey – I also use it in these piña colada protein shakes), and lemon zest. Together, the extracts and lemon zest give these energy bites a yummy birthday cake/wedding cake flavor. I add just enough coconut milk to help everything come together into a thick dough, then roll them in rainbow sprinkles.
You could use almond butter or whatever your favorite nut butter is for these, but I really love how the mild flavor of cashew butter lets the other ingredients come through. You can make your own cashew butter (for this recipe, leave out the honey) but Aldi and Trader Joe's both have affordable options.