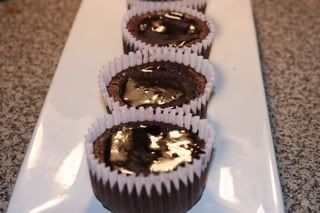 My good friend Sarah has told me lots of great things about Clean Eating magazine, so I thought I would check it out. I can't believe I've been missing out on this for so long! Although the mag is a little more militant about eating "clean" than I am, I loved that all of the recipes use real foods. they have some really creative ideas! I don't think I would ever follow a recipe 100% but it does have some great ideas. For example these cupcakes, which were featured on the cover of the May/June issue. I was so excited to see a "flourless" style cake that wasn't loaded with butter and cream!
I've been going to a new grocery store lately that has a great International section (Prince Chopper in Westgate for my fellow Albanians) and I've had my eye on this jar of cherries in the Polish section for a few weeks. I've been dying for an excuse to buy them! Chocolate and Cherry cupcakes seemed like the perfect reason.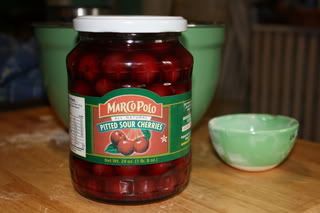 I added these to the center of each cupcake- three seemed like a good amount. The flavor combination was perfect! The only downside was that the extra moisture from the cherries made the bottoms of the cupcakes a little mushy. All in all, they were like the perfect flourless cake though. Dense, Rich, and Fudgey. A total winner.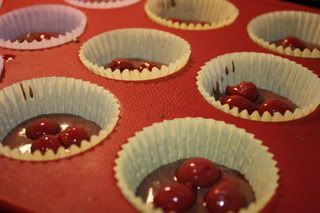 Also, I found that the recipe made more batter than I needed. So I made a tray of mini cupcakes with the rest. Those didn't get cherries, and were topped with coconut. Delish! No soggy bottoms on  these babies! (But no delicious sour cherry flavor either…) I couldn't decide which I liked better. They were both amazing! A recipe that will stay on my collection for sure.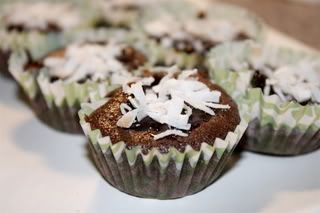 If you want the chocolate coconut cupcakes, omit cherries and top each cupcake with a sprinkle of coconut.