CG over at uncovering food is hosting a fun contest… its based on the tv show "Chopped!" where chef's get three ingredients and they have to come up with a dish that uses them. This month the ingredients were ham, rosemary, and beer. This was harder than it sounded! ham and rosemary pair together beautifully, but it took me a while to figure out how to incorporate beer into a recipe that wans't either chili or bratwurst.
I decided that the best was to use beer was in a batter, and at first my mind was headed in the sandwich direction. But then my mother sent me home from Easter dinner with a freezer bag full of leftover ham and all I could think about was pea soup. I didn't actually feel like pea soup (the weather is just way too nice for something so heavy) but that set me on the right path. I made a navy bean soup and floated Guinness and sharp cheddar biscuits in it. I have to admit that neither of us had very high expectations of this meal, but we were both pleasantly surprised. The biscuits soaked up some of the broth and plumped up a little bit like a dumpling, and the rosemary in the broth gave the soup a very unexpected but delicious flavor that reminded me a little of Christmas. The soup was just filling enough without being to heavy or warm for the nice weather that we've been having. I'd say it might just be the perfect spring soup. Next time, I think the only thing that I'll do differently is add a little bit of diced carrot too.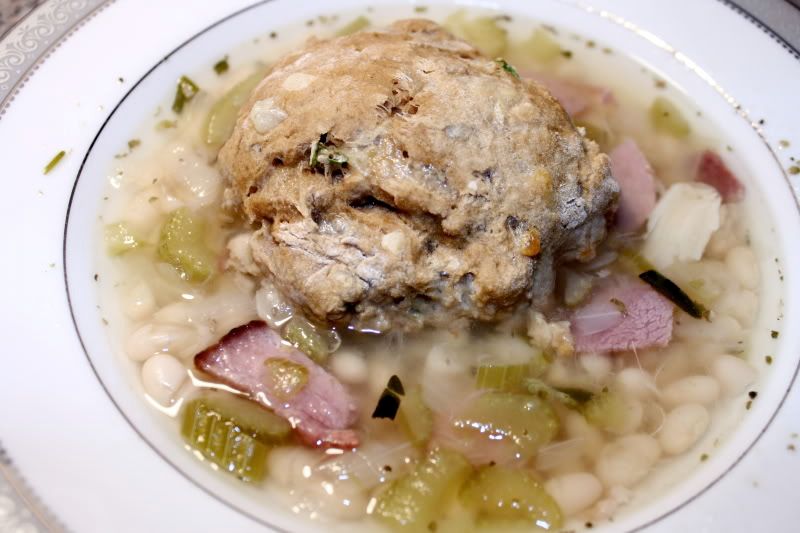 Navy Bean Soup
1/2 pound dried navy beans, picked over
1 ham hock
2 celery ribs, cooked
1 small onion, diced
8 cups water
2 T marjoram
2 cloves garlic, peeled
2 T Tarragon
1 tsp whole peppercorns
1 cup cooked ham, chopped
4 spring rosemary
kosher salt to taste
1 recipe Guinness and cheddar biscuits (below)
Place beans in a medium bowl and cover with boiling water. Let soak for a few hours.
Transfer beans into a large stock pot. Add ham hock, celery, onion, water, marjoram, garlic, peppercorns and tarragon. Bring to a boil, then reduce heat and let simmer for about 2 hours or until beans become tender. Remove ham hock. Mash garlic against the side of the pot until it creates a paste, then stir this back into the soup. Add ham and rosemary and simmer another 20 minutes. Season to taste with salt. Serve with Guinness and Cheddar biscuits.
Guinness and Cheddar Biscuits
2 1/4 cup whole white wheat flour
2 tsp baking powder
1/2 tsp baking soda
dash salt
1/4 cup scallions, chopped
1/4 cup extra sharp cheddar, shredded
2 Tbs butter, melted
6 oz Guinness
Preheat oven to 350. In a large mixing bowl, combine dry ingredients (through cheese) and mix well. Fold in Butter and beer until just combined. Using floured hands, form 12 balls of dough. Place on a baking sheet (leave plenty of room for them to spread!) and gently press down on the top of each ball to flatten it slightly. Bake for 20 minutes, until golden.

By