When you hear someone talk about Thanksgiving dinner, what's the first thing you think of? If you're anything like me, it's probably not the turkey. Turkey might get top billing, but let's face it ­– it's really all about the stuffing.
This year, give stuffing the prominence that it deserves by serving it as a "cake!" I created this recipe for Jones Dairy Farm's Stuffing and More site, and I couldn't be more thrilled with how it turned out – it's one of the coolest recipes I've ever made.
The stuffing cake looks super impressive, but you'll be surprised by how easy it is to make. As an added bonus, the stuffing slices are amazing on Thanksgiving leftover sandwiches. (I've even been tempted to use them "as" the bread.)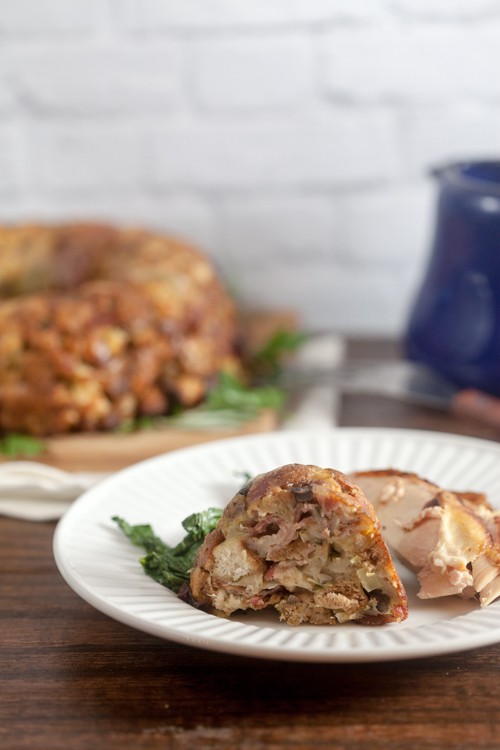 Start with a killer stuffing recipe – mine features Jones Dairy Farm dry aged hickory smoked bacon, buttery leeks, and earthy mushrooms. Then, add a few eggs to help bind it together and pack it into a greased bundt pan to bake. The edges will get crispy and browned, while the middle stays perfectly moist. Here's a simple video that breaks down each step.
I've written before about how Jones' bacon is my favorite, and I especially love it in this recipe. The thick slices have a smoky, meaty flavor that stands up to the other ingredients in the stuffing really well. It's definitely worth seeking out, so check out their product locator to find it at a store near you.
Find the full recipe and instructions for my Mushroom and Leek Stuffing Cake with Jones Bacon on StuffingAndMore.com.
This post was sponsored by my client, Jones Dairy Farm. Thank you for supporting the brands that keep me inspired in the kitchen!
By