A few year ago, I had the opportunity to participate in a study abroad program in Belgium. It was a really cool experience. Like most cafeterias though, the food was generally pretty gross. I typically stuck wit the vegetarian option, but there were some nights where I didn't even want to bother seeing what they had for dinner. I;m a lot more adventurous with food now than I was then, but there are some things that I still draw the line at. Like horse. That was one of the nights that I opted to skip the cafeteria in favor of a local cafe.
Luckily, there was a restaurant down the road that was always a good bet for mussels. They were so fresh and delicious and the tasted like the sea. I think I ate my weight in mussels while I was there. They prepared them a ton of different ways, but my favorite was steamed in white beer with leeks. The sauce is light enough to let the flavor come though, without being too light and boring. The mussels were served with fries with really good homemade mayo… which is nothing like prepared mayo at all. The prepared stuff makes me gag, but homemade is really good- especially on fires. When I got home, I taught myself how to make this meal, which is really simple. Its also very cheap- 3 pounds of mussels is more than enough to share and will only run you about $5.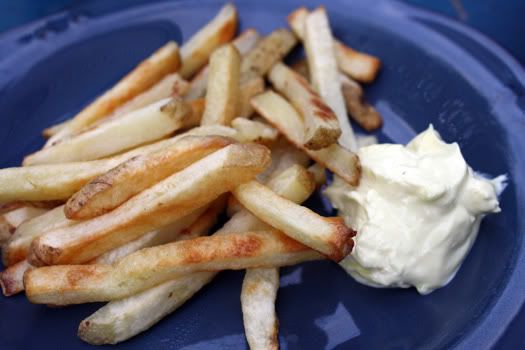 To prepare the mussels, give them a quick look while you scrub and debeard (pull off the little fuzzy part) them. Discard any that have broken shells or that are open and wont close with a little force. Also discard any that feel exceptionally heavy, since those are likely to be full of mud.
Mussels Steamed in Beer
3 lbs mussels, scrubbed and debearded
1 tsp butter
1 leek, chopped
12 oz white beer, such as Hoegaarden
1/2 cup milk
Melt butter in a large pot. Sautee leeks until tender. Add beer and mussels. over and bring to a boil. Let steam about 3 minutes, or until mussels open. Add milk and cook another minute or two until warmed through.
Homemade Mayo
1 egg
pinch kosher salt
1 cup olive oil
In a food processor, combine egg and salt until foamy. Drizzle in the oil very slowly (one drop at a time) while the machine continues to run. After about half the oil is incorporated, you can speed it up a little and add the rest in a steady stream.
This isn't the healthiest because of all the oil, but you really only need a Tablespoon or so to go with your fries. This recipe makes about 3/4 cup and will keep covered in the refrigerator for 2 weeks.
****
Don't know how to eat mussels? They're actually a great finger food! Take an empty shell in one hand and squeeze it so that it opens and closes like a tweezer. Use them to pluck the mussels out of the other shells and eat. No form required!
By