You didn't think I could get through two weeks of dry pea and lentil recipes without making soup, did you? I actually wan't planning on making this, but this weekend was cold and rainy and we were both itching for some comfort food. So soup it was!
I didn't want to make my standard recipe though – I wanted to spice things up! I took a quick tour of the internet for inspiration and discovered two things: 1) Not a lot of people are writing about split pea soup and 2) Even less are putting fun twists on it.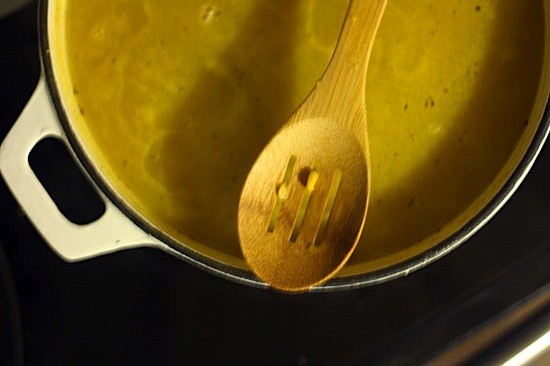 Finally, I stumbled on a Moroccan chickpea soup in an old cookbook. It looked so good that I immediately decided to go with Moroccan flavors in my soup. I adapted this recipe a lot, using smokey ham hocks, two types of dry peas, and piles of spices, I also made croutons with a za'atar inspired seasoning to give the soup a little something extra.
The result was fantastic — a richly spiced, velvety broth with just a touch of spicy heat. Crispy croutons that were so good I had difficulty not eating them all straight out of the pan. Spicy peppers that allowed each diner to customize their own dish. No, this certainly isn't your typical pea soup.
Moroccan Pea Soup with Za'atar Spiced Croutons
This fragrant new take on split pea soup uses spices typically found in a Moroccan bazaar. You could substitute store-bought stock if you don't have time to make your own, but you'll lose the smokiness that gives this recipe an extra dimension. I wasn't able to find za'atar (or sumac, which is the main component of the spice mixture) so I improvised with a mixture of lemon zest and spices. You can substitute store-bought za'atar for a more authentic flavor.
For the soup:

1 smoked ham hock

8 cups water

3/4 cups green split peas

3/4 cups yellow split peas

1 bay leaf

2 stalks celery, chopped

2 onions, chopped

2 cloves garlic, minced

1/2 tsp saffron threads, lightly crushed

1 tsp cayenne pepper

1 Tbs cumin

1 Tbs black pepper

1 lemon, juiced

1/4 cup cilantro

salt to taste

croutons and harissa (below)
Add the water and ham hock to a 5-quart dutch oven or a large stock pot. Bring to a simmer and cook for 2 hours. Remove ham hock and discard or save for another use.
Add the peas, bay leaf, celery, onions, garlic, saffron, cayenne, cumin, and black pepper. Cover and cook for 1 hour, stirring occasionally, until peas have softened. Remove bay leaf, and use an immersion blender to lightly puree the soup, leaving some of the peas whole if a chunkier texture is desired. Stir in the lemon juice and cilantro. Season with salt to taste.
Serves 8.
Approx. 200 calories, 6.5 grams fat, 6 grams fiber, 8.5 grams protein
~~~
For the croutons:
4 ounces Italian bread

1 lemon, zested

2 Tbs thyme

1 Tbs black sesame seeds

2 Tbs marjoram

2 Tbs oregano

1 tsp kosher salt

1 Tbs olive oil
Preheat the oven to 200. Cut the bread into small cubes (approx. 1/2-inch square). Put the cubes in a single layer in an oven-safe skillet and bake for 10 minutes to help them dry out. Combine the spices in a small dish or mortar. Use a pestle or spoon to crush and combine the spices. Toss the bread cubes with the oil and the spice mixture. Place the pan over a high burner and toast the crumbs until they are crispy — about 5 minutes.
Top with croutons and harissa.
Serves 8.
~~~
For the Harissa:
4 dried ancho chili peppers

1 garlic clove, minced

1 pinch salt

1 pinch coriander

1 pinch cumin

2 Tbs olive oil
Remove the stems and seeds from the peppers. Soak in warm water for 15 minutes to allow them to soften. Place the garlic on a cutting board and sprinkle with salt. Use the side of your knife to mash the two together and create a paste. Chop the chilies. Add the chilis, garlic paste, and spices to a spice grinder or mortar and process until it begins to form a paste. Drizzle in the olive oil
****
Through June 15, I will be blogging healthy and unique recipes featuring lentils and dried peas under a sponsorship agreement through the USALentil and Dy Pea Council. I will then be choosing my favorite recipe to be in a contest that will be held at RecipeRivalry.com. Although these posts are sponsored, opinions in them are my own and all recipes are original unless otherwise noted.

****
I'm sending this post to Souper Sundays at Kahakai Kitchen and to Two For Tuesdays