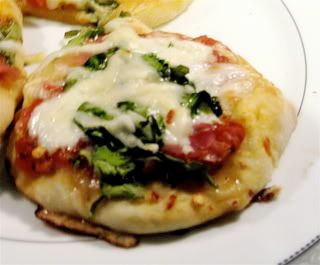 If you've been following me on twitter, this is the post you've been waiting for. I worked really late on Monday night, and my husband has this ready for me when I came home. And he even took a picture! He's the best.
I haven't blogged about pizza in a while, but don't you worry- we eat more than our fair share. Rarely does a week go by where we haven't eaten it in some form- either frozen,delivered, or homemade. Actually we had to cut down on the delivered, because the pizza guy knew our house. And he referred to it to the other pizza guy as "you know- the one with the dog." Embarassing!! (He may be little and cute, but he has a big bark and he goes crazy when people come to the door).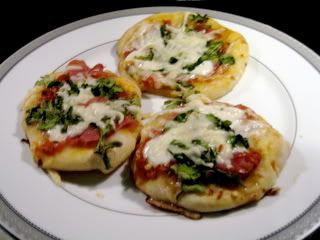 This recipe, borrowed and tweaked from Fine Cooking magazine, is absolutely amazing. The homemade sauce totally makes it. I love homemade sauce. I plan to plant lots and lots of tomatoes this summer so I can make big batches to freeze. But canned tomatoes like he used here work too. The proscuitto added a nice smoky note in the background- just enough that it was there without being too strong. The greens were a great addition and gave it a sort of salad vibe. I think next time, some roasted red onions would be great on this too! Two of these with a salad on the side makes a great dinner. Or you can be a little piggy like me and wolf down 4 of them.
5 tsp. extra-virgin olive oil
3/4 lb. pizza dough
1 large can whole plum tomatoes, drained
1 T fresh Italian seasoning
2 cloves garlic, chopped
Kosher salt and ground black pepper
crushed red peppers
1 c baby arugula, chopped
1 c baby spinach, chopped
2 oz. prosciutto, cut into thin strips
1 c fresh mozzarella, chopped into small cubes
1/4 c grated Romano cheese
Place dough in a bowl, cover loosely, and let sit at room temperature for about a half hour. Heat oven to 375. Meanwhile, combine tomatoes, Italian seasoning, garlic, salt, and pepper in a food processor. Process until it is the consistency of a chunky sauce.
Spray baking sheets with cooking spray. Divide dough into 12 parts, and stretch each into a 3-inch round. Place on the baking sheets. Top each piece of dough with sauce and crushed red peppers, prosciutto, mozzarella cubes, greens, Romano. Bake 12-14 minutes until crust is browned and cheese is bubbly.
Makes 12 mini pizzas.