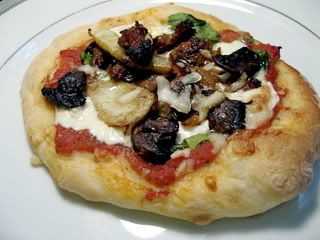 The holiday weekend really threw me for a loop this week. I never sat down and planned a menu/ went to the grocery store and as a result dinners were pulled together on the fly. Which for some reason never really works for me. I can't be creative on demand!
Tonight we had a new version of the mini pizzas that I've posted before. Same recipe as before, but we topped them with sausage, spinach, baby bello mushrooms, and fennel. They were really good in a more traditional way than the other version. Use the same recipe as before, but sautee  about 1/2 pound of crumbled sausage with 1 chopped fennel bulb and 1 cup chopped baby bello mushrooms. Top each pizza crust with torn baby spinach, some fresh mozzarella, your suateed sausage and veggies and a little but of fresh romano. Pop in the oven for 15 minutes and enjoy!
Last night's dinner was just as simple: grilled chicken tenders marinated in lime-basil dressing on a bun with a slice of bacon, avocado, tomato, and spring mix. Simple but delicious!
*****
Next week, I want to try something new for my Meat-Free Fridays feature: in addition to my normal post, I want to do a round up! If you have a great, healthy meatless recipe (fish is ok!) that you would like to see included, leave me a comment and post a link to healthy-delicious.com with a note that you are submitting it to Meat-Free Fridays. Deadline is Thursday, April 23.