Working title: The Awesomest Cherry Preserves Ever Made in the History of the Whole Wide World.
Seriously, I haven't been this excited to post a recipe in a very, very long time. And while these cherry-filled pastries are unbelievably delicious, it's only because the filling itself it so stellar. It has the perfect balance of sweet and tart flavors, with just the slightest hint of almond – not so much that you'd be able to identify it if you didn't know it was there, but enough to make you pause and wonder what the mystery ingredient is.
Tuck a spoonful of preserves inside some puff pastry and brush it with a vanilla bean infused egg wash, and you'll have a homemade pastry to rival those from your favorite bakery. Or skip the pastry and eat the cherries on an English muffin, over ice cream, or with a spoon. It's your call but, whatever you do, you won't be disappointed.
Start by pitting some cherries. No need to be fancy here – I just used a sharp knife to cut along each side of the pit. This step goes much faster and makes much less of a mess than you'd expect!
Combine the cherries with a little sugar, a splash of pomegranate juice, and some arrowroot powder (or cornstarch) and bring them to a simmer. After 10 minutes, they'll look like this. Stir in some almond extract. If you plan to make pastries, resist the temptation to taste this mixture at the point or else you might be sidetracked and suddenly find that you've inhaled half the batch. Don't say I didn't warn you!
Let the preserves cool, then wrap them in pastry. Triangles are traditional, but these square purses will hold more filling. (They'll unfold a little as the dough puffs and will look almond round when they're done.) Brush them with egg yolk and vanilla bean and bake until golden. Yum!
Simple. Delicious. What are you waiting for?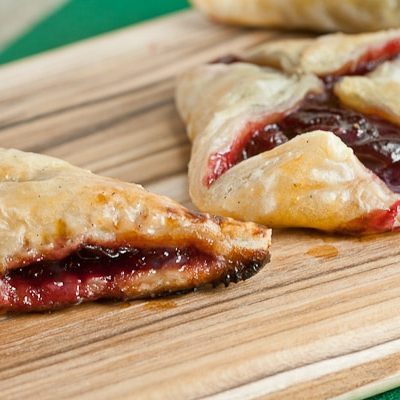 Ingredients
Cherries
2

Tablespoons

Sugar

1-

ounce

Pomegranate Juice

2

Tablespoons

Arrowroot Powder or Cornstarch

¼

teaspoon

Almond Extract

1

sheet

about 8 ounces Puff Pastry, thawed if frozen

1

Egg Yolk

2

Tablespoons

Water

1

Vanilla Bean
Instructions
Add the cherries and sugar to a small saucepan over medium-high heat. After a minutes or two, the cherries with release their juices. Bring to a boil and cook 10 minutes, stirring occasionally to break up the fruit. Add the pomegranate juice and arrowroot to a small bowl or measuring cup. Stir to dissolve. Add to the cherries and boil 2 minutes, or until the mixture thickens. Remove from heat and stir in almond extract. Let cool completely.

Heat oven to 400F. Cut the puff pastry into 9 squares. Spoon 1 heaping teaspoon of preserves into the center of a pastry square. Fold into a triangle and crimp edges with a fork, or add another half teaspoon filling and bring the four corners of the pastry to meet in the middle (see photo above). Place on a baking sheet. Repeat with remaining pastry and filling.

In a small bowl, whisk together the egg yolk, water, and vanilla bean pulp. Brush over the tops of the pastry. Bake 8-10 minutes, or until golden brown. Let cool before serving.
By