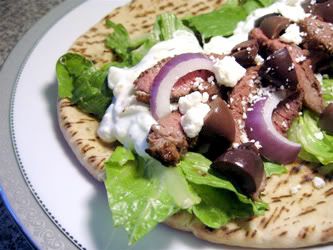 There is a severe lack of lunchtime eateries near where I work. Unless you wanr to brave the cafeteria, there are basically 3 options, all of which involve overpriced sandwiches. The Spring comes, and the carts come back. Sure some of it is your run of the mill street meat, but there are some carts that are really special. The Greek cart is one of my favorites, but they do tend to be on the expensive side.
I started making these sandwiches last year, as a dinner time alternative to my favorite chicken souvlaki from the cart. It's evolved since then, and at this point I think my version is better. Marinated, grilled lamb and "the sauce" make a very flavorful meal. I cut back on the oil and use fat free yogurt as the base for the sauce in order to lighten this up. I also try to use whatever the healthiest pitas that look good are… I feel like our store can never stick to carrying anything, and the selection is always vastly different. Sometimes I'll use whole wheat if they don't look too dry. This time I used Joseph's pitas with soy protein and I was very happy with them- they were nice and soft, and the extra protein made them really filling.
For dinner, I like to serve these with baked potato wedges seasoned with rosemary. I dip those in the extra sauce. Then I use the leftover lamb, olives, and cheese to make a salad for the next day's lunch.
1 lb lamb leg slice (can substitute boneless chicken breast)
3 T olive oil
juice from 1 lemon, divided
oregano, marjoram and thyme
1 small container fat free plain Greek yogurt
1 cucumber, shredded
1 clove garlic, grated
1 tsp dill
sea salt (optional) and cracked pepper
2 c romaine hearts, torn
12 kalamata olives, chopped
4 tsp crumbled feta
red onion, sliced
4 pita breads
Mix together oil, 1/2 the lemon juice, oregano, marjoram, and thyme. Let lamb marinate in the mixture for a half hour.
Meanwhile, make the sauce: wrap cucumber in a paper towel and squeeze out excess water. Combine cucumber, yogurt, remaining lemon juice, garlic, dill and cracked black pepper to taste. Cover and refrigerate until ready to use.
Grill lamb to your desired level of done-ness (I suggest medium-rare). Let sit for 5 minutes before slicing against the grain into thin strips. Rub each pita with a little sea salt (optional) and throw on the grill for a few seconds to warm. Top each pita with yogurt sauce, romaine, lamb, feta, olives, and onion.
*****
A big thank you to Srah from Mom on the Run for giving me the Friends award!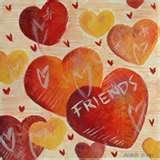 "These blogs are exceedingly charming. These kind bloggers aim to find and be friends. They are not interested in self-aggrandizement. Our hope is that when the ribbons of these prizes are cut, even more friendships are propagated." It also says : "Please give more attention to these writers. Deliver this award to eight bloggers who must choose eight more and include this cleverly-written text into the body of their award."
It was REALLY hard hard to narrow this down to just 8 because I have met so many wonderful people through this blog. Alll of these bloggers have either helped or inspired me in some way (and if Sarah gave this to you, I'm skipping you. Its only fair.) I'm passing this award forward to: