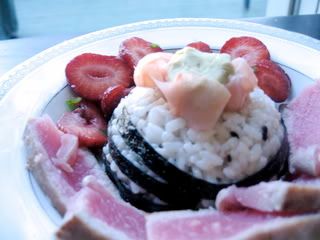 We used to have a really good (and ridiculously overpriced) sushi restaurant here, but unfortunately they closed recently. They had all the standards, but they also had some really unique rolls. My favorites were the love roll and the peace roll. The peace roll included smoked salmon, cream cheese, and pear and the love roll included tuna, strawberry, and tobiko. The fruit and fish combination may seem weird, but trust me: its really awesome.While both combinations are phenomenal, there's something about strawberry that really compliments tuna.
Tonight, I made a chirashi inspired by the love roll. Chirashi is so simple- just fish over a bed of rice. Rolling your own sushi really isn't hard either, but you do have to let the rice sit for a while first and it does take a little longer than just throwing everything in a bowl. With chirashi, you get instant gratification which is always a plus in my book. I seared my tuna today, but this is great with it fully cooked or totally raw too. Whatever you're in the mood for.
1 cup sushi rice
2 T rice vinegar
1 T black sesame seeds
3/4 lb tuna steak
1/2 c strawberries, sliced
1/2 jalapeno, minced
nori strips (dried seaweed)
wasabi, ginger, and soy sauce for serving
First cook your rice. Remove from heat and stir in vinegar and sesame seeds. Cover and let rest. While your rice is cooking, toss your strawberries with the jalapenio. Set aside. Prepare your tuna to your liking, and slice. To serve, add some rice to your bowl and wrap it in some nori. Arrange tuna and strawberries around/ over rice. Serve with soy sauce, wasabi, and ginger.