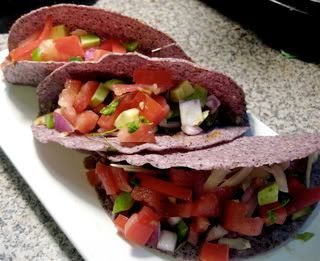 For tonight's edition of Meat-Free Fridays- its taco night! I don't know anyone who doesn't love a taco, and when you think about it there are so many different version and all of them are so good. Even the cheap junky ones from Taco Bell. That's probably what most people immediately associate with the concept of a taco, but there are also fish tacos, tacos de carne asada (steak in a tortilla with a salsa of onions and cilantro), and about a million variations on all of them.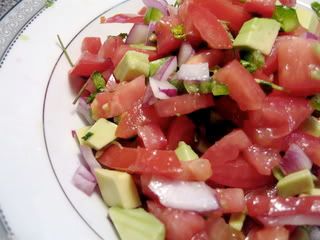 These are our favorite tacos. We always use veggie crumbles for them. For some reason, they come out way better that way than with real meat. You can also use black or refried beans instead if that's more your style or if you want to save a few bucks. We keep the topping simple with a fresh salsa. The addition of cool, creamy avocado in the salsa is delicious and will keep you from reaching for that sour cream! If you have any of the topping left, throw them on some greens the next day for a great salad!
What's your favorite taco?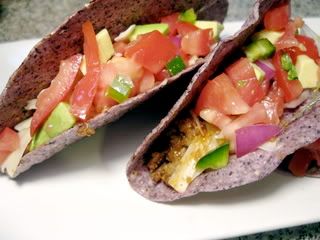 2 plum tomatoes, seeded and diced
1/2 small red onion, diced
1 jalapenio, minced
1 clove garlic, minced
1 haas avocado, cubed
juice from 1 lime
3 T chopped cilantro
1 tsp chili oil
1 bag vegetarian "crumbles" (or about 2 cups black or refried beans)
1 packet taco seasoning
1/4 c sharp white cheddar, shredded
blue corn taco shells (my favorites are from Garden of Eatin)
In a small, non reactive bowl, combine first 7 ingredients (through cilantro). combine well and set aside to allow flavors to meld.
Heat chili oil in a large skillet. Add crumbles or beans and taco seasoning. Combine well and cook until hated throughout.
Place a little bit of the "meat" in the bottom of each taco shell. Top with a sprinkle of cheese and allow it to melt a bit. Top that with plenty of fresh salsa and enjoy!
*****
Next week, I want to try something new for my Meat-Free Fridays feature: in addition to my normal post, I want to do a round up! If you have a great, healthy meatless recipe (fish is ok!) that you would like to see included, leave me a comment and post a link to healthy-delicious.com with a note that you are submitting it to Meat-Free Fridays. Deadline is Thursday, April 23.