This week went super fast- I can't believe its time for another meat-free Friday post already! I had two late nights at work (ate dinner at the office) AND the store was out of tuna, so my weekly menu plan got all thrown off.
Now that the weather is starting to get nice, we've been eating a lot of pasta salad. Its so easy to throw together and it makes a great sidedish. I also like to make a lunch out of it.
I don't really plan out my pasta salads- I just throw in whatever I have around. Some of my favorite things to include are endamame, peas, broccoli, artichoke hearts, kalamata olives, and roasted red peppers. And cheddar. There are always cubes of cheddar in my pasta salad. I just dress it simple with just enough olive oil to keep the pasta from sticking, red wine vinegar, and Italian seasonings. What's your favorite thing to include in pasta salad?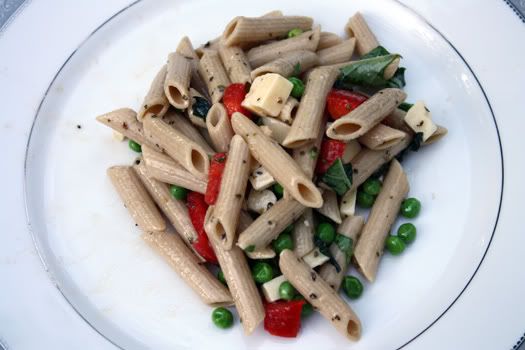 The pasta salad above includes:
1/2 lb DeBoles whole wheat penne with jerusalem artichoke flour
1/2 red pepper, diced
1 cup frozen peas, thawed
2 oz extra sharp cheddar, cut into small cubes
1/4 cup fresh basil, chopped
1 Tbs dried oregano
1/4 c olive oil
1/4 c vinegar
kosher salt and freshly cracked black pepper
****
Meat-Free Friday Roundup
There are some great submissions to this week's roundup!
Jenn from Bread+Butter made some great looking sweet and sour seafood recipe that I can't wait to try! The breading on these look delicious, and she baked it instead of frying to keep it light.
5 Star Foodie, Natasha, made a okonomiyaki (Japanese pancake) inspired by something she ate on her recent trip to London. Its stuffed with shrimp and smokes salmon, and I've never seen anything like it!
Reeni from Cinnamon, Spice & Everything Nice, submitted a creamy Tuscan bean soup. The combination of cannelini beans, orzo, and spinach looks like it would be super comforting if you have a Spring cold.