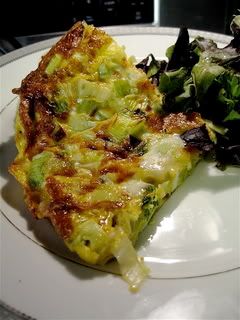 As you know by now, I love lemon. Leeks and goat cheese are also right up there on my list too, so when I saw this recipe for a savory frittata, I knew that I would have to give it a try. It was really good, but I generally like bolder flavors. next time I think i would either add a little prosciutto (obviously that wasn't an option tonight) or use swiss cheese instead to give it a little more of a bite.
7 eggs
1 lemon, zested
3 oz. goat cheese
Olive oil
1 large leek, cut into half moons
1/3 c parsley, chopped
Salt and fresh ground black pepper
Preheat broiler. Crack eggs into a mixing bowl and beat well. stir in lemon zest and cheese. Heat olive oil over medium heat. Add leeks, and cook until soft. Add parsley and heat until wilted. Remove from heat, salt and pepper to tatste, and let cool for a minute or two. Mix the leeks into the egg mixture and return to pan. Cook over medium heat for about 10 minutes. Finish under broiler for 4 minutes, or until top becomes browned and puffy. Serve with sea salt and cracked pepper. Serves 4.