Before I get to the food, can I ask you all a favor? Pretty please? It's recently come to my attention that when you look at my blog in Internet Explorer the pictures get all stretched out and funky looking. I'm trying to fix this, but its really hard since I don't actually have explorer on my computer. I think they're fixed in this post… but if they aren't can you please leave me a comment and let me know? or if you're using a different browser and they look all stretched out, let me know so I can fix that too. I don't want you to have to stare at nasty looking pictures! Thanks!!
OK, Now to the good stuff…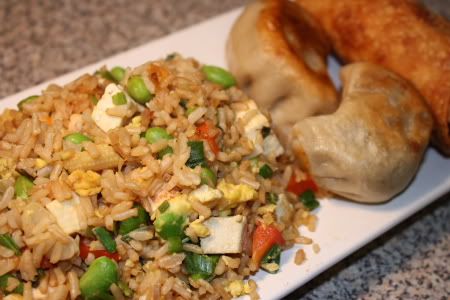 This month I decided to participate in Taste & Create, which pairs together different food bloggers who then agree to cook and blog about a recipe from the other's blog. Its pretty fun, and a nice way to explore recipes that I wouldn't otherwise look that closely at. This month I was paired with What's for Suppper?. She has lots of great looking recipes, and it was hard to pick one! I was really tempted to make something decadant, but I couldn't let myself do that when she posts perfectly healthy recipes from Ellie Krieger every week!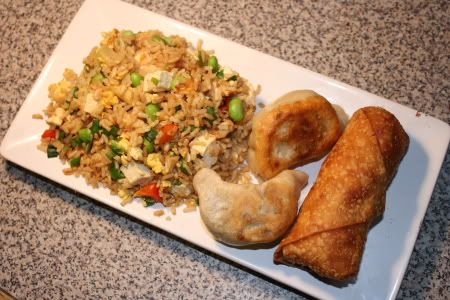 I chose to make the fried rice with scallions, endamame, and tofu. I don't cook with tofu often, but I do like it in fried rice so I thought this would be something good to try out. It was a pretty good! I really liked the flavor that the endamame gave to this. It also made the recipe very filling. Its supposed to serve four, but there's no way that I could have finished more than a half serving. I paired this with some takeout dumplings and an eggroll and it made a nice dinner (and lunch the next day!)
Fried Rice with Scallions, Endamame, and Tofu
1 Tbs plus 1 tsp canola oil, divided
2 large cloves garlic, minced
4 scallions, greens included, sliced
1 Tbs ginger, grated
4 cups leftover cooked brown rice
1 red pepper, diced
3/4 cup frozen edamame, thawed
1 can baby corn, rinsed, drained, and roughly chopped
6 oz extra firm tofu, cubed
2 eggs, beaten
3 tablespoons low-sodium soy sauce
In a large skillet or wok, heat 1 Tbs oil until very hot. Add scallions, garlic, and ginger and cook until softened and fragrant. Add rice, peppers, endamame, corn, and tofu. Cook until heated through, about 5 minutes. Create a well in the center of the pan. Heat remaining oil, then add egg. Cook egg until nearly fully scrambled. Add soy sauce. Stir everything around so that it is all incorporated. Serves at least 4.
*****
Meat-Free Friday Roundup
Does not exist. Seriously people, I'm a little disappointed in you- no one had a meat free recipe this week? I'm going to try this again, and I'll even make it easier for you! All you have to do to be featured in next weeks roundup is post a link to healthy-delicious.com on your vegetarian or fish post, then email me at lk@healthy-delicious.com with the link to your post!