The ingredients for this months Royal Foodie Joust were banana, honey, and turmeric. Interesting combination! I knew that I wanted to make something savory, and I immediately thought of going Caribbean with my dish.
This came out really well – I liked the way the the flavors played off of each other and carried through the dish: honey glazed cornbread, a banana-curry sauce on the shrimp, and fried bananas glazed with honey and a sprinkle of turmeric. In order to keep the dish from being overly sweet, I served it with rice and slightly spiced black beans. The touch of heat in the beans was perfect.I cheated on the cornbread a little by using Jiffy mix, but the glaze on them was awesome and they totally stole the show. I'll be making them again soon!
If you don't do shellfish, this is just as good without it. Just serve the banana curry sauce with the rice and beans. Yum!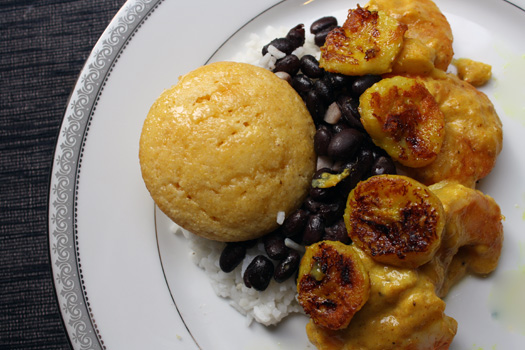 Banana Curry Shrimp, Sauteed Bananas and Honey Glazed Cornbread
1 banana, cut into pieces
2 Tbs plain, fat free yogurt
2 Tbs water
2 tsp turmeric
1/4 tsp cardamom
1/4 tsp coriander
1/4 tsp pepper
pinch ground cloves
3/4 lb shrimp, peeled and deveined
1 Tbs olive oil
1 banana, sliced
1 tsp honey
1/2 tsp turmeric
1 box Jiffy cornbread mix, baked into 8 muffins according to package directions
1 Tbs butter, melted
1 tsp honey
1 tsp water
black beans (cook with garlic, cumin, cayenne, and 1 Tbs apple cider vinegar) and white rice for serving
For the Banana Curry Shrimp:

Preheat oven to 350. Combine banana, yogurt, water, and spices in a bowl. Mash together until they form a thick paste. Add the shrimp and toss to coat. Transfer everything to a glass baking dish, Bake for 15 minutes, or until shrimp are cooked through.

For the sauteed banana:

Heat oil in a sautee pan. Drizzles honey over bananas and sprinkle with turmeric. Add bananas to hot oil and cook until bottom browns- about 1 minutes. Flip and cook an additional 1 minute.

For the honey glazed corn bread:

Combine butter, honey and water to form a thin glaze. Use a fork to poke holes all over the top of the muffins. Pour glaze over muffins. Allow to cool.

Serve with rice and beans. Season to taste with sea salt.

****

I am entering this recipe in the July Royal Foodie Joust, hosted by the Leftover Queen.

By