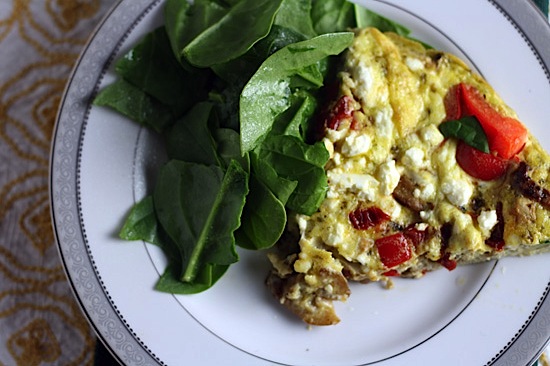 We don't make frittatas very often, and I really don't have a good excuse for that. They're healthy, super easy to make, and so much more convenient than omelets if you're cooking for a crowd. Since you don't have to worry about folding it, it's easy to pack it chock full of vegetables – I like to think of the egg as a binder for the veggies rather than as the main component of the dish.
You can use whatever vegetables you have around, which makes frittatas a great way to use up leftovers, but I always try to include eggplant when I make them. It doesn't sound like it would go well with eggs, but trust me — it's delicious. For this Mediterranean version, I also added some sun dried tomatoes, a few spoons full of pesto, and a light sprinkle of feta cheese. The resulting dish was phenomenal! The tomatoes and pesto really kicked things up a notch and made this frittata special.
I forgot to put the spinach I had in it, so I made a little salad with it on the side. Since the frittata was so savory, it went really well together. If you want to add more bulk to your eggs though, you can wilt the spinach with your vegetables.
Mediterranean Vegetable Frittata

Feel free to use up whatever vegetables you have on hand, or to use all eggplant or all zucchini. I bet this would also be fantastic with artichoke hearts in it. A little bit of baking powder keeps the fritatta light and airy. Feta provides a touch of saltiness, but a sprinkling of grey sea salt on the plate is a nice touch as well and will brighten the flavors. The frittata reheats well, and can also be served at room temperature.

1 small onion, chopped

1 small zucchini, peeled and sliced

1 small eggplant, peeled and diced

1 red bell pepper, chopped

1 Tbs sun dried tomatoes, chopped

6 Eggs

1/4 cup fat-free milk

1 tsp baking powder

2 Tbs pesto

cracked black pepper

2 ounces feta cheese

Preheat the broiler.

Spray a 10-inch saute pan with olive oil. Add the onion and cook on medium-high until it begins to soften. Add the remaining vegetables and cook until soft.

While the vegetables cook, beat together the eggs, milk, baking powder, and pesto. Season with black pepper. Pour the egg mixture into the pan, giving it a good stir so that the vegetables are spread evenly throughout. When the sides are just set, but the top is still wet, sprinkle the cheese over the egg.

Transfer to the broiler and cook for 3-4 minutes or until the top is set. Turn out onto a cutting board and cut into 6 wedges.

Serves 6.
Approx. 130 calories, 8 grams fat, 1 gram fiber, 9 grams protein



By