Yesterday turned out to be a very tea-filled day (which is never a bad thing!). I met up with Rebecca from Rosey Rebecca in the afternoon for my first Teavana experience. I got the iced pear luna and it was amazing, not bitter at all like iced tea can be sometimes (although it could have used more ice)! I'll definitely be going back there.
Then I came home and made this delicious grilled mahi mahi with sauteed cherries in oolong broth for dinner. Cherries are one of my all-time favorite fruits, but I've never used them in a savory dish before. When I saw a recipe that called for combining them with fish and a tea broth, I knew I would have to try it! Definitely a winner, and much less complicated to make than I thought it would be – it only took me about a half hour total, so this is easily a weeknight meal.
The broth was one of my favorite parts of this dish – it was very delicate but full of flavor. I made some rice because I wasn't sure how filling the dish would be… totally unnecessary, but it was great for using some of the extra broth! Oolong tea was surprisingly difficult to find, but I did manage to score some locally at the co-op. If you can't find it, i think Earl grey would work too. The cherries were awesome combined with basil and sesame oil and the asparagus were some of the smallest and most tender that I have ever had. I'll definitely be making this one again.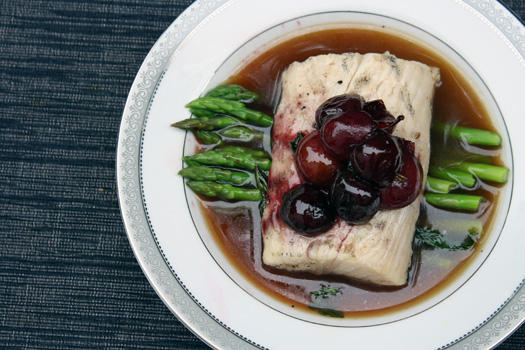 Mahi Mahi with Sauteed Cherries in Oolong Broth
Adapted from a dish by Paul Parker of Chez Sophie
1 cup water
2 Oolong tea bags (or approx 2 tsp loose tea)
1/2 cup rice vinegar
1/4 cup sake
1/4 cup sugar
a few good sized sliced of ginger
1 jalapeno, sliced
1/8 cup soy sauce
1/8 cup fish sauce
2 6-oz mahi mahi filets
salt and pepper
1 tsp sesame oil
3/4 pound sweet cherries, pitted and halved
1 large handful fresh basil leaves, chopped
1/2 lb asparagus, trimmed and blanched
Bring water to a boil. remove from heat and add tea bags. Set aside and let steep for 5 minutes. Combine next 5 ingredients (through jalapeno) in a small saucepan over high heat. Bring to a boil, then lower heat and let reduce by about half. Stir in the tea and keep warm.
Season fish with salt and pepper, and grill to desired doneness (I recommend serving mahi mahi medium-well). Meanwhile, add cherries, basil, and sesame oil to a small sautee pan. Cook over medium-high heat until cherries release some of their juices and basil has wilted.
Add soy and fish sauces to the oolong broth.
To serve, arange half o the asparagus in each of two dishes. Set grilled fish on top and spoon the broth over it all. Top with the sauteed cherries.
Serves 2.