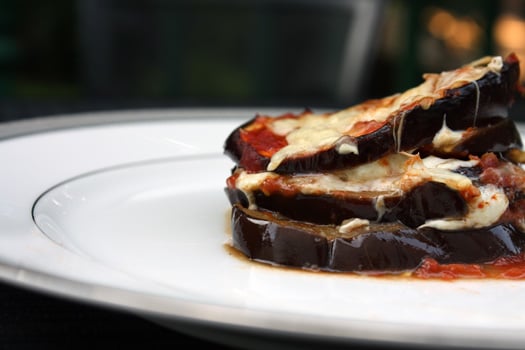 The most basic dishes can be completely transformed when you use all fresh ingredients – this eggplant parmigiana contained very few ingredients, but they were all good quality and it was delicious. I happily ate the leftovers for lunch all week.
This recipe in Fine Cooking magazine initially caught my eye because, unlike most eggplant parm recipes, it wasn't breaded. The lack of breading keeps it on the lighter side and makes it more appropriate for the summer weather. It also lets the flavors of the other ingredients really shine through.
I had a stressful day today and I honestly don't feel like typing up this recipe. Sorry. I based it off this one though, with just a few changes:
I left the peel on the eggplant
I used much less oil to fry the eggplant – only a thin layer in the bottom of my pan. I browned one side, then flipped it and browned the other.
I had an 8oz ball of fresh mozzarella, so I used that and cut back on the Parmesan (actually I used Romano). I also put mozzarella on the top layer too.
I didn't peel my tomatoes – I just halved them and then picked the peels out as they fell off the tomatoes as the sauce cooked
I also added about 1/2 cup red wine, oregano, and crushed red peppers to the sauce
****
I might be back later tonight with another post and my entry for this month's Royal Foodie Joust!