When life gives you eggplants, make baba ganoush!
Even after making massive amounts of Ratatouille, I still had a few eggplants left so I decided to try something different and make baba ganoush. Shawn loves hummus, but I never really think to make baba ganoush, which is basically hummus made with roasted eggplant instead of chickpeas. It was really easy to make though, and tasted way better than anything that you can buy prepared at the grocery store. I can't wait to make it again!
The flavors of my baba ganoush were slight twist on the traditional dish. I bought my tahini in bulk from the co-op, and I had more than I needed, but not enough to save. So I put it all in. This gave it a stronger tahini flavor than normal, but we both really liked it that way. I also used cilantro instead of the more traditional parsley, which gave it a nice green color and an interesting flavor. And I topped it off with some pomegranate juice that I reduced into a thin syrup. The flavors all came together beautifully and the dip was delicious served with some whole wheat pita bread.
It was so good that I would have been happy with just that for dinner! But I served it with some grilled lamb kebobs (ignore this part for meat-free Friday!!) and vegetables. The kebabs were made with cubes of grass-fed lamb dressed with a little olive oil, lemon juice, lots of garlic, rosemary, salt and pepper. The red onion, pepper, and zucchini were marinated briefly in olive oil and balsamic before they were grilled.Together, this was a very simple but very satisfying meal.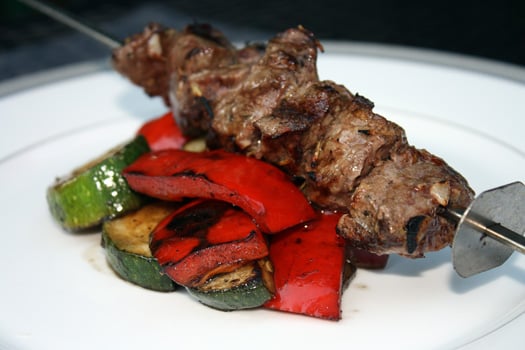 Baba Ganoush with Pomagranate Syrup
3 small eggplants (about 1.5 lbs)
1/2 cup tahini
2 cloves garlic
juice of 1 lemon
1/4 cup cilanto (or parsley)
1 tsp coarse sea salt
dash cumin
1 tsp olive oil
1/2 cup pomegranate juice
1 tsp brown sugar
whole wheat pita wedges, for serving (optional)
Grill or broil eggplannts until skin begins to char – about 10 minutes. Continue to grill, or bake at 350, until the whole thing is soft and can be easily pierced with a fork (about 10 minutes on the grill or 20 in the oven). Scoop out the flesh of the eggplant and discard peels. In a food processor, combine eggplant, tahini, galric, lemon juice, cilantro, salt, and cumin. Process until smooth.
Meanwhile combine pomegranate juice and brown sugar in a small saucepan over medium heat. Bring to a boil, then reduce to a thin syrup.
Drizzle olive oil and pomegrante syrup over the baba ganough. Serve with pita wedges.