The maple-walnut butter cookies are crispy, chewy, and just about perfect.
I'm pretty sure I've eaten my weight in cookies this month, but these maple-walnut butter cookies are some of my favorites. Their texture is just amazing – crispy on the edges but wonderfully chewy in the middle. They're intensely buttery with maple-y sweetness, a touch of walnut, and the perfect amount of salt.
They also seem to get better and better the longer they sit, which makes them perfect for giving as gifts or bringing to a cookie exchange. If you can bear to part with them yourself, that is. (I thought about it, but decided I just couldn't.)
To make these cookies, start by processing walnuts into a paste (think peanut butter, but better). Then, mix together a pretty basic dough. I've been lazy about taking my butter out to soften lately, so I've been using a trick that I learned recently – grate the cold butter into shreds with a cheese grater. By the time you're done, you'll be rewarded with a pile of buttery ribbons that are the perfect temperature. It works like a charm!
Because these cookies are so delicate, I call for sifting the dry ingredients – another step that I'm usually pretty lazy about. It only takes a few seconds and you definitely don't want any clumps of baking soda in your cookies (especially if you're giving them away). If you don't have a sifter (I actually use a mesh colander) you can also use a wire whisk to break up any clumps that might have formed in your dry ingredients – they should be light and fluffy.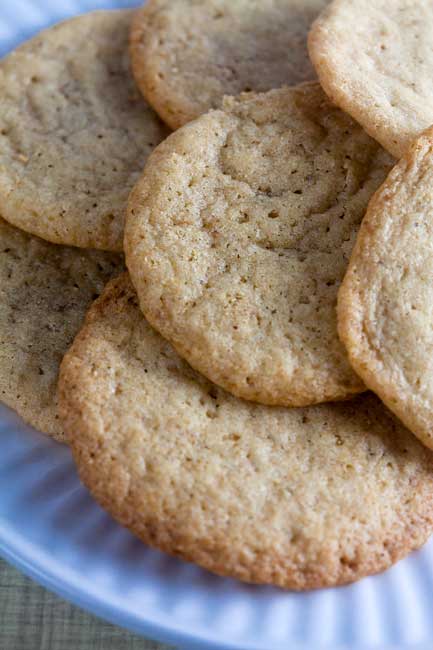 This post was sponsored by Gold Medal Flour. Thank you for supporting the brands that keep me inspired in the kitchen.
Have a sweet tooth? Check out these other maple recipes: